On wednesday I was tagged in a post on facebook on one of those buy and selling site in my home town by of all people my dads sister-in-law (who I'm grateful too): Mazda mx5 eunos 1991 import reg 1993mgood condition.
Sent a couple of messages to its owner and got no replies, i even replied on the advert the next day. Eventually the owners grandaughter sent me this:
Whites my favourite mk1 colour and due to the ruined cosmetics on my NB RS this seemed like a plan. So I went for a peek at car this afternoon as I was passing by and...
bought it,
I spent ages on the floor checking the sills and usual rot spots, nothing at all few stone chips, the front end has had some paint work to the wings and both are fitted so so, the roof is brand new but standard vinyl.
This bit works fine:
Looks lovely outside:
Wheels need spit and polish but must be fairly rare as I've never seen a set before, shame they're black as they're not to my taste:
Inside is in great condition: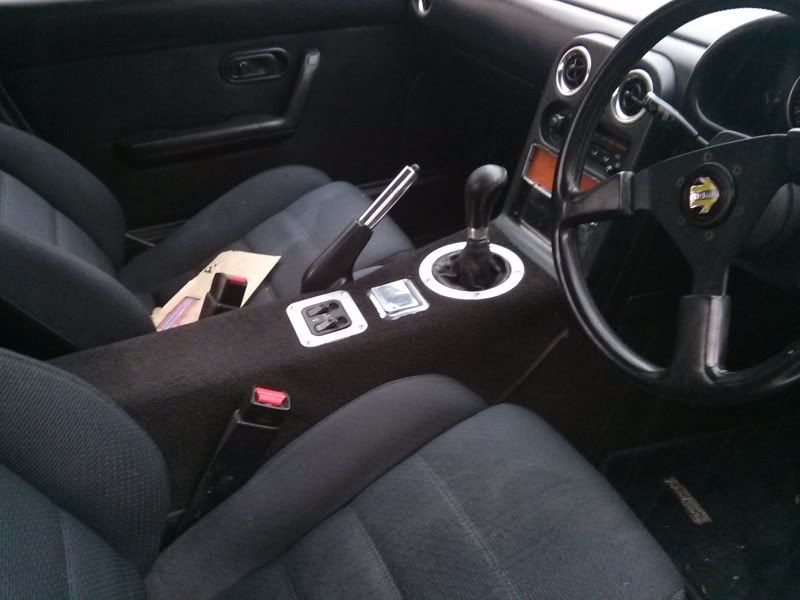 at first I was confused by the lack of centre console and the rubbsih sparco gear knob but then i noticed ZOOM engraved into it and all made sense
I only drove it across town to stash it in a garage for the time being as its got no mot/tax - ihave no doubt it'll go straight through as its rot free.
Can't believe how tight it felt even with 220000Km on it! felt slower than my mk2 and a little slower than my old eunos but that had definately been tweaked in japland.
So plans:
1.8NB lump, probably megasquirt, possibly throttle bodies, lightweight flywheel
RS diff if it'll work nicely ratio wise with the mk1 gearbox ( i love the 5 speed so much)
Roll bar or cage, elise seats, front lip and possdibly some skirts
Motorsport wheels - slipstreams / compomitves or similar
1.8 brakes
refresh the bushes - haven't check them but it drove tight
performance orientated exhaust system
maybe a mohair roof despite the new vinyl one
There you have it, what do you recon?