Thought id start one of these threads.
However, I dont really have any "beauty" shots of my car.
This is my fourth MX-5 or roadster. Ive been around the "online"mx-5 community for many years and before we had any forums.
I had always really liked Montego blue and thought it wasthe best MX-5 colour.
When I started looking again for my 4[sup]th[/sup] 5 I was planningon getting a black one. However, this turned up in at used car dealer in Ipswich so about an hour from me. I was tipped off by another Nutz/OC member "Matt" that it was not bad and I immediately likedthe look and specification. It's a 1997 1.8S-Special type I in Montego blue. (Type I for 97 not original S-Special - the 97Type I came without BBS where as the Type II had BBS wheels). This comes withall the usual S-Special extras but also the 133bhp engine from that year.
One of the issues I faced, is that due to some family history and experiences, I wont/cant buy anything without an air bag (lets not go into their expected life cycle here please
) so my choices on my budget were very limited. Air bags were options for the mk1 JDM cars and not available on uk mk1 cars so basically hens teeth.
I bought it In January 2009 just before Prices reallycrashed Lfor £1850. It was a trade in and I think the dealer mainly does family cars and hatchbacks and wanted to turn it to cash in January knowing he would probably have it until at least spring otherwise.
It had 82,000km.
It did have a lot of small dents in the doors (like amachine gun had been down it) I was thinking the last owner must park near a pillareveryday, and a few minor scuffs.
I negotiated that a dent man would sort them out but overallI think he didn't work quite as hard as he might.
These are some of the dealers photo's: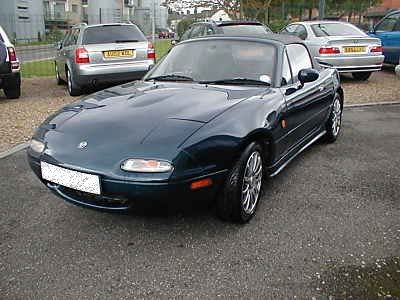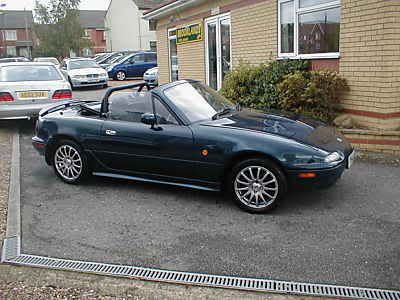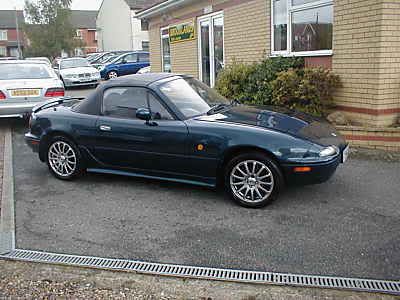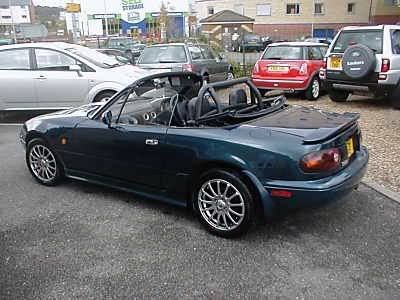 I also liked the Mazdaspeed extra's theoriginal owner had clearly raided the options list for back in Japan.
This included original Mazdaspeed dials, Mazdaspeed exhaustmanifold, Mazdaspeed exhaust, MazdaspeedRoll bar, Mazdaspeed Rad cap and what were sold originally as Mazdaspeed sideskirts. It has a spoiler which also looks original from the factory and goeswell with the body kit and I believe this to be a factory Mazdaspeed option aswell, but ive not seen many of these.
Im not really into spoilers on a 5, but I feel this one goeswell with the car and doesn't ruin the lines too badly. Its not as high off the body as most of the others and I love the rear brakelight as well.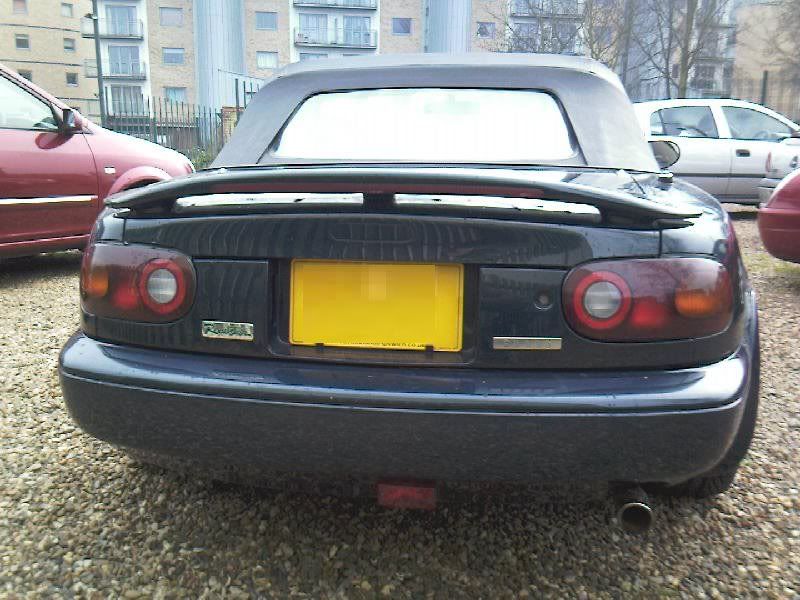 Along with the Mazdaspeed stuff, there was a mixture of KYBfront shocks and Mazdaspeed rear coilovers. This made for an interesting ride!
There was also a blitz air intake and momo pedals.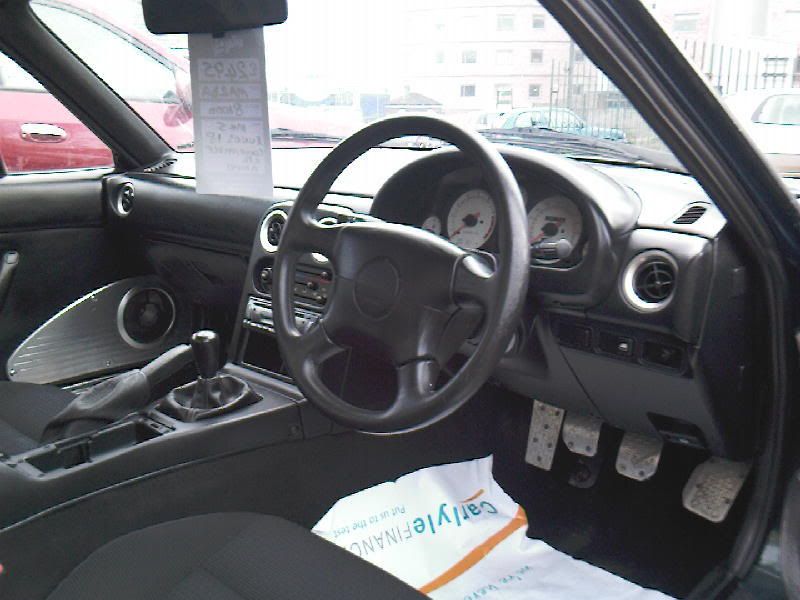 The wheels were fairly new looking AEZ's - actually theyonly looked a few months old - not a mark on them.
I bought it on a very cold icy day and may have missed a fewthings as a result but overall was very happy to be back in 5
I had a great drive back to Essex (despite the alignment and suspension set up). Top was down and it was a beautiful sunny winters day.
Mods history and developments to follow