Discussion Starter
·
#1
·
Well since I'm turning my old mx5 into an Exocet I've been missing driving one so I decided to buy another
I did buy another laguna blue S-Special but sold it on to pay for the kit part of the exocet build, but now that is getting well on I thought I'd keep on the look out for another, I was planning on buying my friends Integra Type R but had major rust and insurance on those is still a fortune and mx5's can now be placed on classic insurance so hence my choice, plus I love the way they drive.
I managed to pick up a 1993 S-Special in Laguna Blue / Perky blue ( 6w I believe) depending on which colour chart you look at. Here are some of the bad points
No M.O.T
No tax
Coolant inlet pipe snapped so no coolant in the engine
Engine misfire
Roof cut and leaking badly
alternator belt snapped
Interior carpet soaking wet
lexus rear lights
17" wheels and slashed tyres
aftermarket rear bumper
no radio and wiring ripped out
rear brakes binding on (possible calipers)
nasty centre exhaust
here are the good bits
Price paid £300
laguna blue, by far the nicest colour the mx5 came in imo
chrome style bars
original yellow strut brace
lsd
electric windows and mirrors
no oil leak
pretty rust free only slight surface rust in places
private plate GAZ 8028
blue engine bay hoses
hks mushroom filter
very clean seats with headrest speakers and thumper speakers in the back rests
92km so around 60,000 miles
chrome air vents, pop up light surround and gear surround
lowered springs and uprated shocks
So all in all a fairly decent base car to start and if it turns out to be rotten I can easily make my money back. However breaking it isn't my plan. I've removed the wheels and fitted my set of genuine s-special 15" Mazda BBS alloys but yet to fit my centre caps as i'm missing one, i have sourced a new leak free roof which i sold to the guy who bought my last mx5, luckily he had just put it in his garage and never touched it, result as i bought it back for less money than i sold it as well
I sorted the misfire as one of the plug leads had popped off
I am also currently trying to sort out a deal on a standard rear bumper and mudflaps in the same colour and some standard rear lights.
So my plans:
put on new roof to make it water tight
strip the full interior and dry out all the carpets and floors, including the boot
repair coolant pipe
fit new clutch slave cylinder
changed all fluids and service
replace fan belts
fit standard rear lights and bumper
fit my HKS super drager backbox
remove charcoal canister
make side mount number plate holder
fit cd player
M.O.T
Damn good wash clay polish and wax
however this might come first
Well here are the pictures i have so far but i will update them as i go
When i went to look at it
At home checking it over, throwing out any junk i found inside and making it more water tight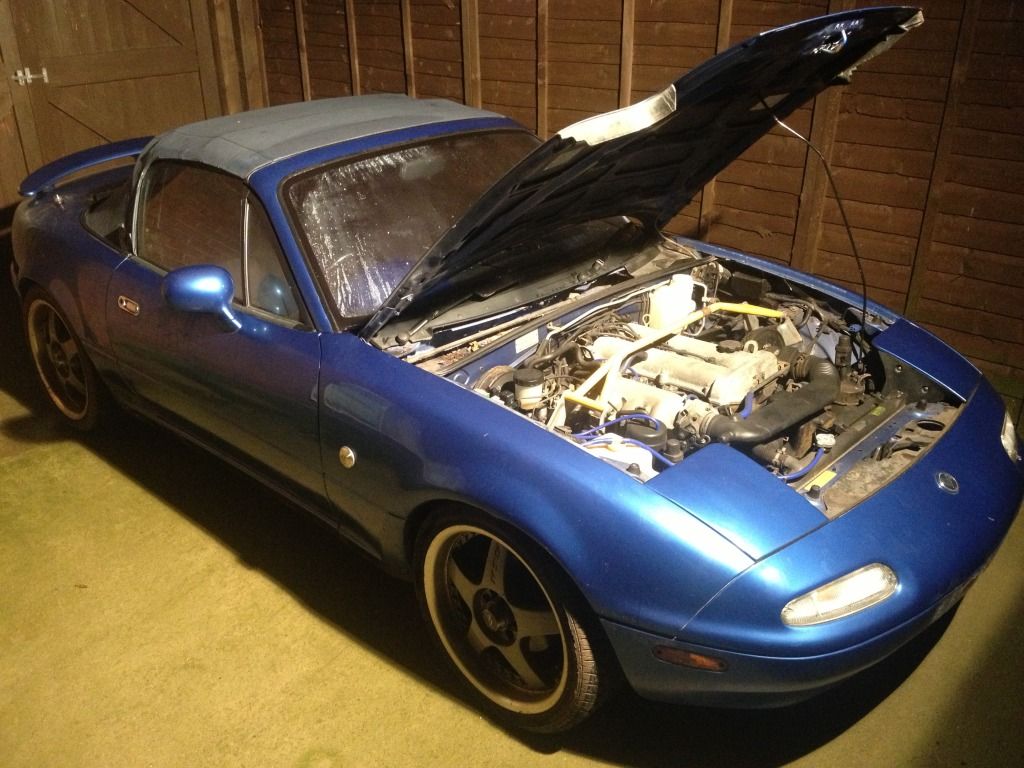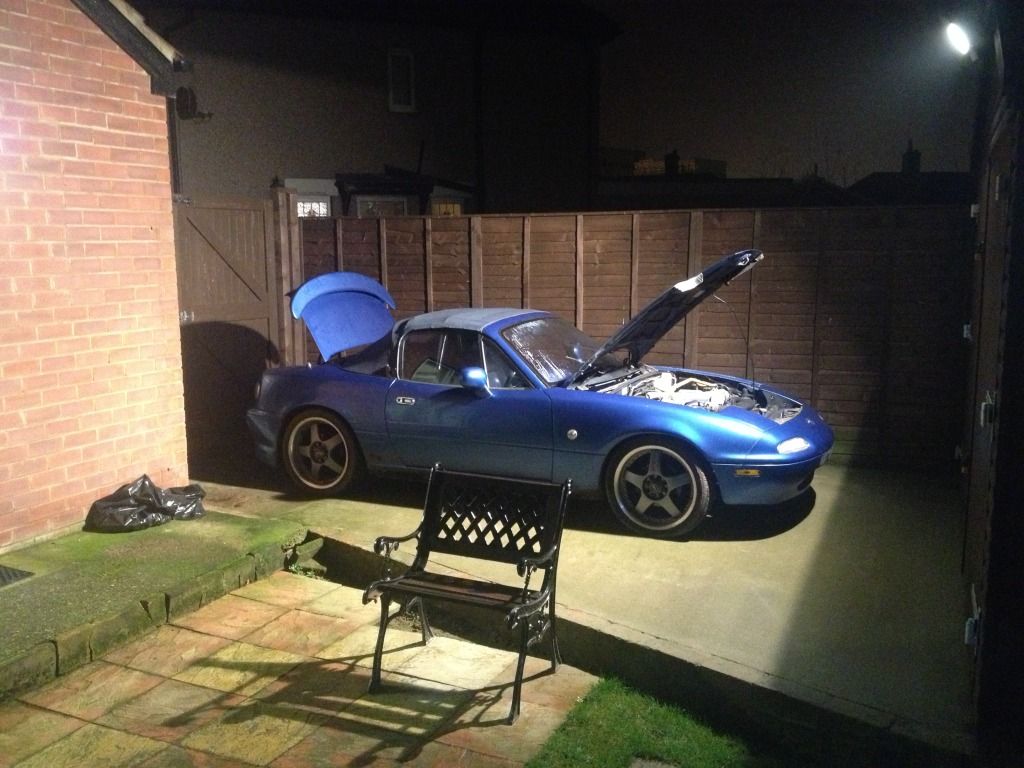 New wheels fitted