Hi All

Firstly to introduce myself, my name is Tim and I have been lurking around this site for over a year now.

I was first introduced to Mx5 ownership in 1997 when I bought my wife a standard Classic Red 1.6 Eunos Roadster. At the time as well as my daily driver (a 1.8 Ford Escort Ghia) I also owned a heavily modifed 2wd Sapphire RS Cosworth running approx. 350bhp that I used primarily for weekend blasts and track days. Although the raw power of the Cossie was amazing I always enjoyed driving the Mx5 and loved the way it drove like a go kart - I always got out of it with a smile on my face. Sadly we let the Mx5 go 4 years later when my wife was so heavily pregnant with our first child that she could no longer fit behind the wheel ... she cried when it was driven away (probably because she knew she was getting my old Escort instead which she hated). The Cossie eventually went too, to make way for a E36 M3 convertible which became my daily for a little while but that too went to be replaced by something more sensible once we got a dog, my daily is now an Audi A4 Avant (estate) diesel.

Anyway, I always hoped to get another car that I could use for weekend fun and track days and last year when I saw just how cheap MX5's were I persuaded my wife that I needed a new hobby and went on the hunt for a sub £1k Mx5 ... promising her that this would be a cheap car and that I would not spend too much money on modifying it


After looking at a couple of rotten UK cars I decided that a Eunos would be the best bet, I didnt spend long looking and bought the 2nd Eunos that I viewed - a bog standard 1.6 Roadster with 140km on the clock, no service history, loads of previous owners, it was in very good nick bodywise with no obvious rust although the roof was not in tip top condition, interior was good and mechanically it drove well and was only £800 and had a brand new MOT. In hindsight I probably could have found better / cheaper had I waited & searched longer .... but I am an impatient bugger.

I have had the car a year now and in that time lots of mods have been done to it and more are in progress right now. I had always planned to create a build thread documenting what I did to the car and how it progressed, however I never got round to it and often didnt take photos always remembering only after the job was done. So this is the beginning of my thread a year on since I purchaed the car so its more of a finished thread than a build thread but I will try and recap what has happened so far (note that some of the pictures may not be completely in time with the story) ....

This is the only photo I took of the car as it was when I bought it in September 2011 :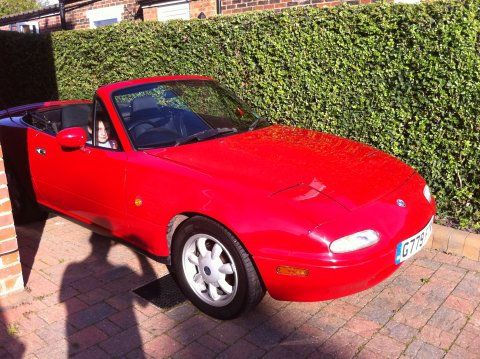 First thing I bought for it was secondhand Tonneau cover to tidy the back end up.

The first actual job I tackled was a service, with new plugs, leads, oil & filter.

Now onto fixing a few things. The car had a horrible 'rubber duck' type aerial, previous to this it must of had an electric aerial as there was a dodgy switch in the dashboard which had to go and one of the interior light covers was missing. Some searching on Ebay soon found a standard Eunos whip aerial, a dashboard switch blanking panel, a replacement interior light, a new set of foot mats and some stainless steel 'Roadster' sill trims. That was the "restoration" over with, now for some mods ....

First thoughts were to stiffen the chassis up a bit. So I returned from a trip to MX5 Parts (which is nice an local to me) with front and rear IL Motorsport chassis braces. These were an easy fit and definetely "seemed" to help reduce scuttle shake etc.

I wanted to improve the appearance of the car and make it look a bit more tough and purposeful so I thought a roll bar would be a good addition. As my long term goal was to use the car for occasional track days I decided to invest in something half decent and opted for a TR Lane GPD bar and Harness bar rather than "Style Bars". Fitting the roll bar was an easy enough job although it took me 2 afternoons to complete, I did it on my own but it would definetely be easier to do with someone else helping you - even more so if they have fitted one before !. The TRL roll bar is a very substantial bit of kit and fits with 14 bolts, it certainly looks the part and I would like to think that it would offer some genuine protection in the event of a roll (although I hope to never find out). One thing for sure is that it noticeably stiffens the chassis up even more.
Next on the list was to improve the engines breathing a bit, so off I went to MX5 Parts again, this time returning with a Pipercross Induction Kit and IL Motorsport S/S "silenced" decat pipe and S/S single exit exhaust system. I fitted the induction kit myself but got a local garage to fit the exhaust system and whilst he had it on the ramp I also got him to drain and replace both gearbox and diff oils. The new induction and exhaust certainly sound the part and seem to have given a noticeable improvement to engine response and the way it pulls ... though how much of that is my imgaination I dont know.
For anyone thinking of buying the MX5 Parts (IL Motorsport) exhaust system, I can say that it is great value for money and very well made, the mechanic who fitted it said it went on perfectly and was the best fitting aftermarket exhaust he had ever worked with - only down side for me is that it is pretty damn loud for general driving (I have yet to get the db measured at a track so fingers crossed for that).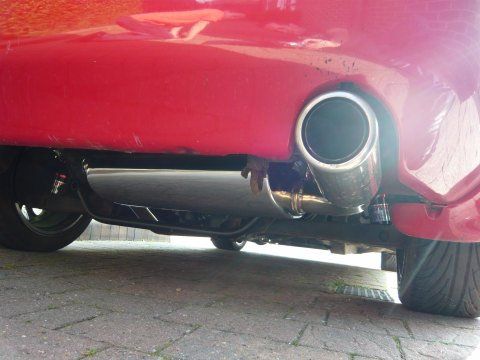 Next was a set of Carbing Style tow hooks purchased on here from JibberingLoon :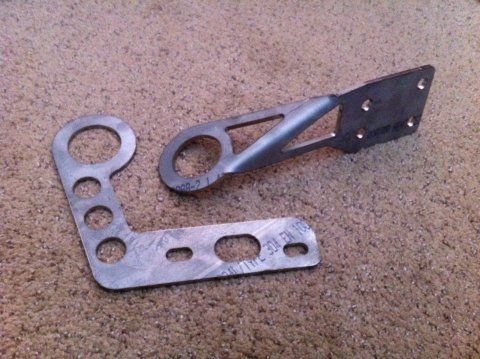 I spent a while polishing these up using a rotary wire brush before they were fitted :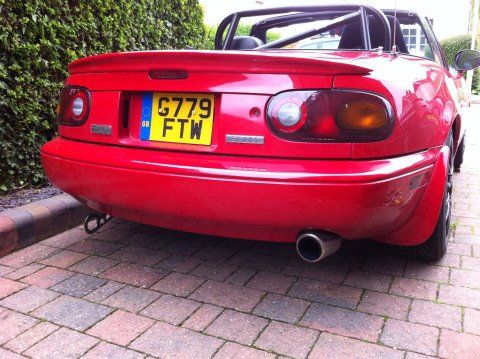 Next was a OEM Strut Brace from Ebay followed by an impulse buy of a cheap set of 16" TSW Imola alloys rattle can painted black purchased from another MX5Nutzer, I have since refurbished them myself and they look pretty good on the car but weigh a tonne. Although I have kept these on the car for now they will be replaced by some lighter 15" alloys in the future (either Rota RB's or Team Dynamic Pro race in gunmetal or antracite - if anyone has any for sale ?).

I now had a car that went fairly well, sounded sporty and handled pretty good ... but looked like a 4x4 due to the standard suspension and ride height.

It was about now that I first met Nick Bailey (Skuzzle) when I for no real reason purchased a spare coilpack off of Ebay (just because it was cheap) that turned out to be sold by him. I collected the coilpack in person and we had a long chat about 5's and he showed me his race car. We discussed my suspension and Nick reccomended the Meister-R coilovers, we also discussed superchargers (can you possibly guess where this may end up going ?).

At this point Nick was working at Autolink and a few weeks later I had arranged for my car to have a set of Meister-R coilovers fitted, which was done by Nick himself. This is a rubbish photo but it is of the car on the morning I set out for Autolink and shows just how high the suspension was :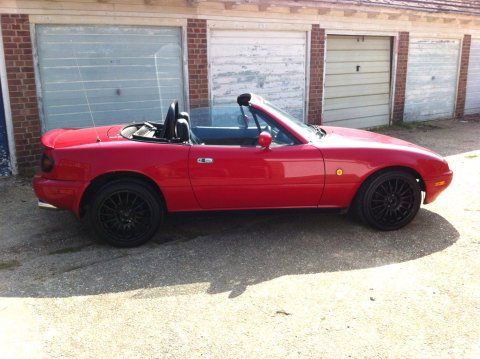 And here are the nice freshly fitted Meister's :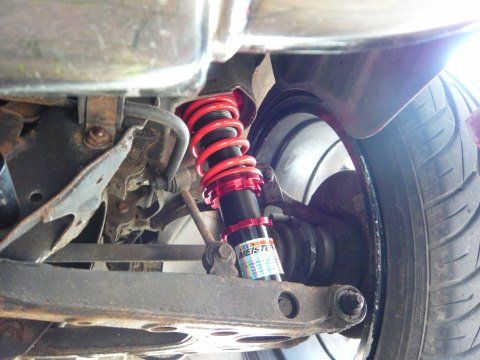 Now the car was lower it looked so much better and handled fantastically (although I still need to get the geometry alignment redone).

Next job was to change the gearbox shift boots, I did this myself in about 30 minutes and it definetely improved the feel of the shift :

Before
After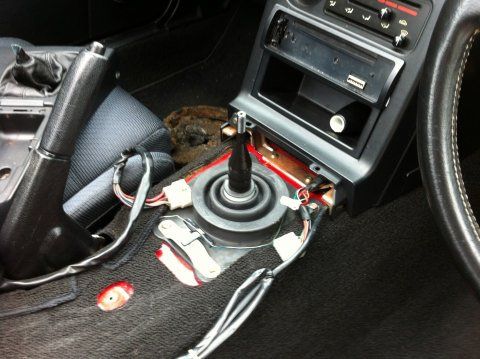 I then purchased some TRS 4 point harnesses and kept an eye out on Ebay for some second hand bucket seats, eventually finding virtually new condition Sparco Sprint Juniors (which are the predecessors of Sprint 5's). Fitting the driver seat was very easy as the standard runner needed just 2 additional holes drilled in them :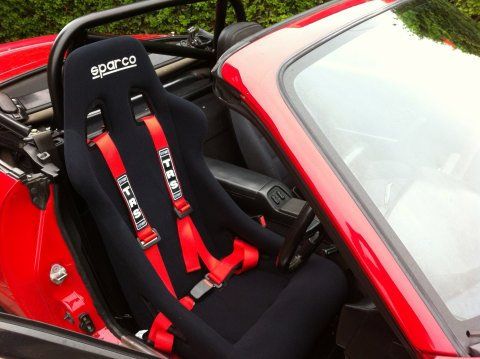 However the passenger seat was a bit more awkward and needed an additional bracket to be fabricated :
But once this was done it went in fine and they both (in my mind at least) look great and are very supportive and comfortable :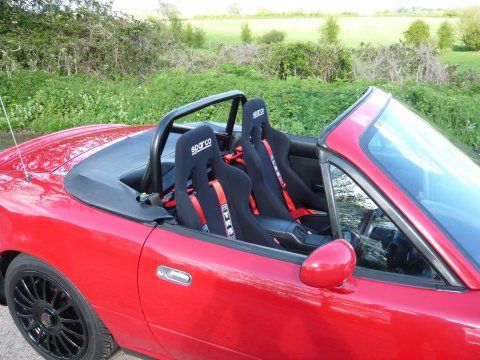 So the car was now starting to be pretty much sorted as far as my original plans were concerned.
These pictures are more or less how it looks today (note that these pics make it look somewhat pinky but in reality it is still nice and red and looks great when freshly polished) :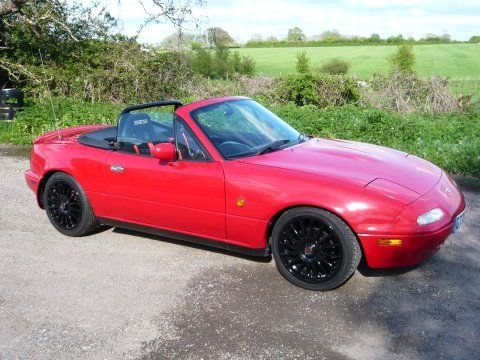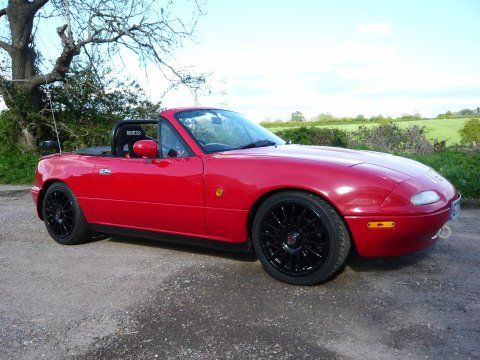 Then I bought this from Ebay :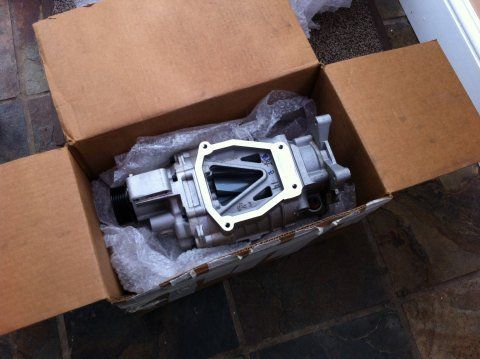 By this point Nick had left Autolink and had opened Skuzzle Motorsports in Winchester (Tel. 023 9229 9390 or 07817 716 711) and after a few discussions with the man himself he explained how he was looking to create his own complete, high quality and easy fit MX5 Supercharger and Intercooler kits superior to anything else on the market. A deal was struck and I agreed to let Nick use my car as the prototype development mule for his new kits .... which is now work in progress but hopefully will be completed soon. I will update with pictures as soon as it is finished.

Some of you may have seen my car at Skuzzles garage in Winchester or on his facebook page :

http://en-gb.faceboo...&type=1

As well as the Supercharger and Intercooler install which is all in progress, Nick has already fitted the Megasquirt ECU, 1.8 injectors and a brake upgrade for me using 1.8 carriers, discs, pads and braided hoses. So hopefully it should now stop better as well as go like a rocket ... fingers crossed.

I wish Nick's new business every success and hope my car becomes part of Skuzzle history as no. 001 of the Skuzzle spec Supercharger & Intercooler kit. I would reccomend anyone who wants any work done on their Mx5 wether its just a service or a complete SC install to speak with Nick (Skuzzle), he certainly knows his stuff, is very enthusiastic and is an all round top bloke .... though dont too many of you go to him right now as I want my car to be finished !!!.

So thats my story so far, it has involved a lot more upgrades and money than I first planned (certainly more than I have told the wife about anyway) but no track days yet ..... hopefully these will come next year !.

Cheapest mods so far, but which were well worth it - repositioning the foglight into the reverse light and the 'Flash to Pass' mod.

Future plans, not too much :
15" Alloys (Rota RBs or Team Dynamic Pro Race in gunmetal or anthracite)
OEM Front Splitter (now on its way from America)
Vented passenger headlamp cover
Quick release steering wheel boss
Extra guages under the radio (boost, oil temp, AFR)
Debadge, fill and respray front end
Side mounted no. plate
New Hood
More boost ....
Drive it.
I hope some of you enjoyed all my waffle, I would be interested to hear any comments or suggestions. I shall try and keep this thread updated in the future as and when the car develops..
For old times sake, here are a few pics of my old Cosworth and M3 :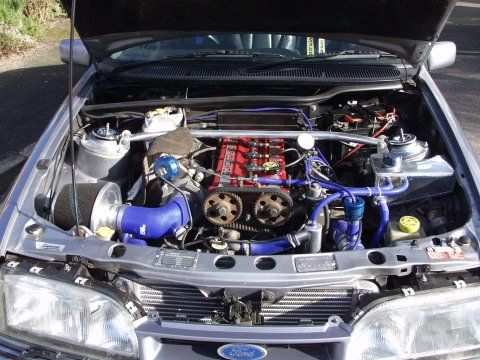 I had the Cossie for over 8 years and spent thousands on it, it was virtually mint.
I sold it to a young lad who then wrote it off just 3 weeks later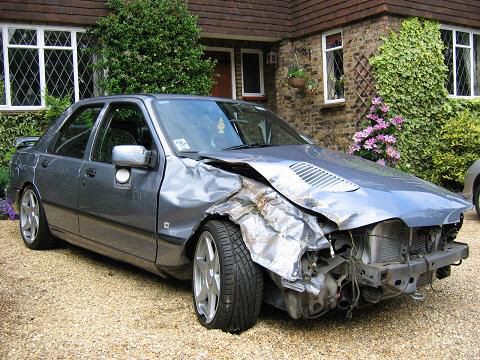 This was its replacement ...
The M3 was nice just because it was a soft top, but even though it (allegedly) has 321bhp it was no where near as quick as the Cossie which was just brutal !
Regards,

 
Tim