I get questions of how to import cars from UK every now and then. Here is my "how to" for those who are looking to export an car. This is how I have done and isn't only way to do things.
Please. Ask a permission if you want to use any of this, I have no problem with it, just let me know.
If you find something you think or know isn't correct, please point it out and I will check it out and fix it.
FIRST
I start (like everybody does) by searching for non rusty car, helps as I'm after JDM cars that has spent minimum amount time in Island Of Rust or been garaged for winter(s). UK cars rust like nothing else! Seriously. And their rust proofing is thin layer of oily stuff. Rest of the basic "how to buy car" you will have to google.
- First problem to solve will be that you are foreigner, seller's don't take you seriously or think that you'r trying to fool him. Think about it, if you are selling car and someone from different country is contacting you to buy your car, specially if there is LHD/RHD difference. I always call, if possible, that way I get contact instantly and buyer understands (maybe) that I'm serious about it. I tell that car's are my hobby and I'm interested on the car because it cost's X times less in UK than in Finland and in UK there is thousands X type cars for sale in UK, were as in Finland there is 8.
- Second problem to solve is how to beat local buyers. After seller takes you seriously, you still have to beat those guys who live 15 miles from seller. To win local buyer's I often offer First Payment. If the car is for sale for £1000, I'll offer £100 via PayPal etc to make sure he hold's the car for me. I will let the seller know that he can keep the £100 if I change my mind. Why? Well seller might loose potential local buyers and I can make sure I don't waste time and money, it is not fun to find out that seller has sold the car and you have plane, train and ferry tickets paid.
- Third. I want to see pics, lots of pics, specially from those places I know to rust and other known problem areas. I take multiple different sit downs with pictures and every time see something new.
I usually talk/chat to seller (via skype, facebook, whatsapp etc), trust your instincts! Usually you know in 15 seconds can you trust the seller or not and remember! If it sounds too good to be true, it will not be true! Btdt.
- Fourth. Ask how he want's car to be paid, some have wanted money in £20 bill's, for some it has been ok to transfer money from my bank account to sellers under seller's watchful eyes.
You might want to know this before anything else!
For JDM import, see/ask if V5C has first registration date or just import date? More often it does not have it at all or first reg date and import date can be same so 1991 has in V5C an 2001 first reg date. Check your local MOT station about it, how they deal with it, Japan import papers often have mention of model year (declare manufactured abroad 19xx) that is enough for MOT in Finland.
Registration year
of UK car.
Checking UK car's history, explained in
Wikipedia
.
Vehicle check
, history, crashes, unpaid taxes etc. Cost's few £.
Check MOT history
According to DVLA
it takes 2-4 weeks for new owner to get new V5C. So you should be ok to drive in UK for two weeks.
INSURANCE
You can not have UK insurance, for that you will need local address and UK has most complicated and insanely expensive insurances. Get insurance from your own country. At least in Finland not every insurance company insures UK cars, so don't stop after first one says no. You need so called "green card" from insurance company, it is same insurance paper but in all known languages. For insurance you will need VIN number, model year, registration number etc (your company will let you know), seller can sometimes have problems to give VIN number because in UK thief's can copy the VIN to other car.
Take every possible insurance you can, it does not matter how much it cost's for year, when you get home you just quit them. You don't want to be stranded on side of the road, knowing that it will cost you stupid money, when you could've insured for blown car, btdt.
UK ROADTAX and SORN
You will need Roadtax, you can not even park the car on side of the road with out it! After buying the car, first thing you will have to do is buy tax (google, it's sold everywhere), 6 months is minimum, but can get refunds for unused 5 months from
here
.
SORN (Statutory Off Road Notification) means that car need's to be road taxed before it can be driven on road.
TRAVELING
- You have now agreed with seller about the deal, you will need to find your way in and out of the Island.
Search and you will find. If you have two flights that cost almost same, take the one that lands to airport closer to your car (Read around London). Because traveling inside UK is not that cheap and it takes time, lots of time specially around/in London.
You can find deals, inside UK for flights, trains and busses, one example, bus tickets from London to Leeds basic price might be £35 for hourly leaving busses but bus leaving 8:12 is £4,99.
You can buy combination ticket. I often land to Gatwick (usually wrong side of London but it's only decent priced morning flight), I have ordered underground/train tickets before, walk to ticket machine and pay my ticket, I get my A to B to C tickets from there. Service is great in underground stations, I all ways ask for help where this or that goes.
Now you have travelled to meet the seller and bought the car (we'll get to process of buying soon) you need to get back to Europe side.
From there you have option to drive
Dover
or if you'r north, night ferry from
Hull
is cheaper than to drive to Dover and sleep there, there is one port in
Harwich
too that does Ro-Ro. From Dover you can take ferry to
Calais
or
Dunkirk
, see which one is cheaper. If you buy ferry ticket 24h before from internet you pay about £40-50, from harbor you pay £80-100. Train tunnel is expensive.
Don't make too tight time schedule, it's unknown car and anything can happen.
Flights
SkyScanner
Busses
National Express
Eurolines
Trains
Direct Train
The Train Line
National Rail UK
Ferries
Direct ferries
Buy every ticket online, as usual earlier you buy, cheaper the tickets will be. When you roam pages for tickets it is good to use "incognito" page, so when you come back following day the page wont see you coming back and rise price of yesterdays ticket.
Calculate km's for driving time, think where you want to stop for sleep and look for hostel/B&B and pay it before.
Fuel prices
in Europe, calculate how much you will use.
Thank god for Google maps!
Again, trust me! Leave enough spare time, if something happens (blown tyre btdt) you have time to solve the problem.
SHAKING HANDS
So, you have met the owner and test driven the car. You have the amount of pounds burning hole in your your pocket, valid insurance for the car in hand and then what.
V5C registration document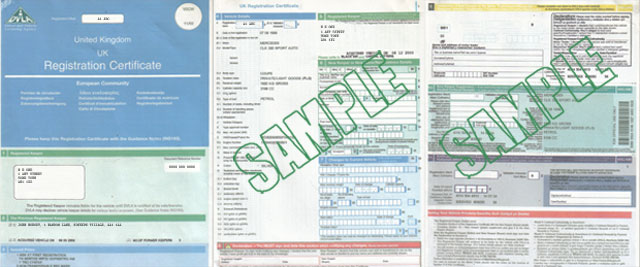 This has all the details of the car.
Fill "Section 11. Permanent Export"(V5C/4)
Seller will send "Section 11. Permanent Export"(V5C/4) to DVLA.
Sign the V5C.
It is huge, like poster, 3xA4.
New version of V5C looks like
this
.
Ps. DVLA will not know who bought the car, so if it so happens that you drive to speed camera, they will not know who to send the ticket (I have never got one)
MOT test certification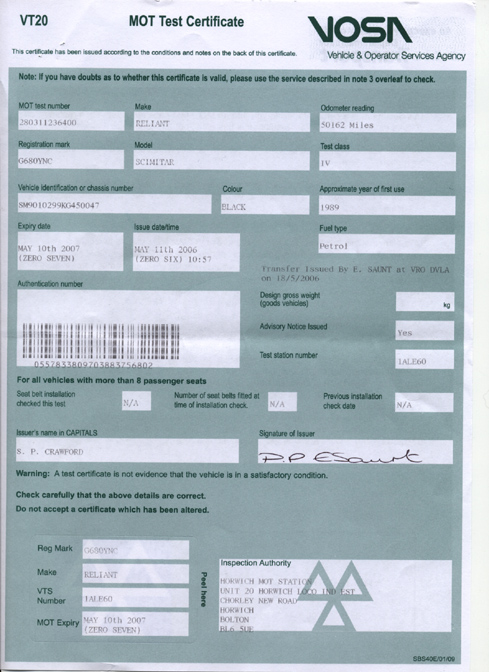 This is paper that proves that car is road legal. (new paper looks
different
)
Brits love these and give loads of them to go with the car.
Make "
BILL OF SALES
" to prove that you have bought the car and legally own it! Forget it and you might find yourself in deep shit.
Export certification
Has all the JDM details.
And then?
You can buy stickers for driving lamps from boat (or from internet before hand), it is illegal to drive with RHD lamps in LHD roads. And you will need loads of things to legally drive in France (google it). I've only once bought the stickers.
Avoid
London
like plague! Driving through will take
longer than you think
! If you want to visit London, park the car and take underground. Also London has emission tax, so you maybe have to pay £$€ to drive inside London.
If you drive around London via M25 east you will need to pay TOLL, they
only
accept £2 coin, no cards. I stud there for good 10 minutes with looong queue before boss of a boss deside that 2€ coin was ok.
Importing from Ireland? No idea, good luck.
Mc Donald's have free WiFi, so you can keep your social media addiction under control.
!!! MUST remember to ask from seller and he has to make sure by testing !!!!
Cigarette lighter/12v socket has to work!
You dont want to start driving home and realize that you can not charge GPS!
Double check before leaving home that your GPS works! I've been in Manchester Airport when I realized that my phone GPS did not work. It worked home while in WiFi, but GPS itself was dead. Lucky for us B&B allow'd us to print whole map of UK-Fin drive from google maps.
Do not let fuel tank go under half tank, specially in Germany where fast driving and long, up to 80-90 km distances (next gas station might be closed) between gas stations may get you stranded and police will give you an ticket for it. Small jerry can?
I usually fly in friday morning, land about 9:00 to Gatwick. Travel to meet the seller, ? 12'ish, deal done 13:30. Head to Dover and sleep there, I take saturday morning early (and cheaper) 5:00'ish ferry so that I'm in France 9:00 and I have time until sunday 3:00 morning to get into next ferry, north Germany and be back Helsinki 9:00 monday morning
These are great road trips and you have great chance to make epic video of it. Plan it a bit before to make it easier.
Have fun!
Here is a link to 250 pages .pdf of how to buy a car from any EU country and all the needed details.
JOINT-PROJECT_AUTO_REPORT_europe.pdf
Oh and for those who say that you can't fit anything into MX-5, I'll call it bullshit.
One 6-speed gearbox
3 x 1.8 LSD diff
3 x all axles for diffs
1.8 NBFL sport brakes
NB Airbag steering wheel
6 cases of beer, 2 boxes of wine and 1.75l Jägermeister
Ps. To all of you who I have met and got to know,
thank you
!
It has been great & fun. Much respect to for going extra mile to do business.