Afternoon chaps and chapettes.
I thought i'd start a thread for this one as I haven't really done so for the previous 4 i've owned.
My previous three were
these:-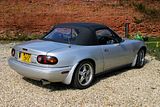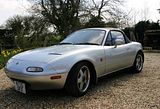 Mk1 NA8C, now owned by Ste in a radically altered form (for some reason this one still sticks with me as being one of my favourites, albeit, one of the lowest powered). It's an entirely different animal these days thanks to Ste being one of the most pedantic people in the history of the world
Mk2 'VS' Roadster Import, HKS T25G Turbo Kit
Mk2 'S' MX5, UK, Mildly modded
Prior to getting into MX5's, I went through a few other jap vehicles, which
included:-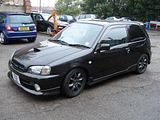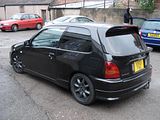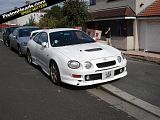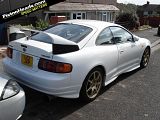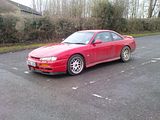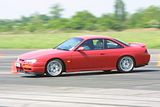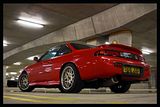 After recently selling my gold mk2 to a lovely chap on here, i was after something a bit more suited to track work, as i dont really need the car to be pretty/clean etc. The gold one was pretty damn clean for what it was, one of the nicest condition UK mk2's I had the pleasure of seeing. My new one is not destined to be a daily driver so I didnt mind getting something a bit grotty, providing it had potential, or some decent parts.
I did not want another turbo'd car as I found this a bit twitchy for track work and was just something else to worry about (be it oil leak/starvation, gaskets, clutch, heat issues or good old fashions lively rear ends), so decided I did definitely want to stay n/a. As the mk2.5 seems to be the best of the bunch in that respect, this is what I was aiming for. Either that, or a mk2 RS/VS of some sort, as I always will have a soft spot for them.
I ended up finding a mk2.5 about 2hours away. It had a set of Gaz coilovers, new brakes, new cam belt and some other bits and bobs. I was just after something that was mechanically sound, and didnt mind bodywork issues, providing it wasnt COMPLETELY rotted - even if it was, I am not afraid to break cars so wanted a bit of buffer in the price to allow for this.
The car I went to view was quite ropey cosmetically. The underside of the front arches are corroded (surface - its almost like a brown rash, very strange) and the same on the rear sills. There doesn't appear to be much/any bubbling from the inside however, and the drain holes appeared clear. I havent yet checked the sill drain holes but I will once I find something small enough to get in there (any suggestions?).
The car had some tax and some mot, enough to get me by for the meantime. Having agreed a sensible price (considering condition) and getting it home, I have looked underneath and it appears in fairly good condition. The sills look good as do the chassis rails, the corrosion does appear to be purely cosmetic which doesn't really bother me. I 'may' get this sorted if I see some wings for sale or decide to do more about it, but for the time being, I dont care.
The car came as
follows:-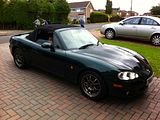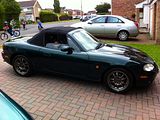 Decent parts on the car were as follows:-
Gaz Coilovers
Rota Circuit 10 wheels with T1R tyres (both nearly new) - For Sale
Twin exit exhaust (believe to be custom)
DVD Touchscreen head-unit - For Sale
Random generic mesh air filter, with a bodged 'heat-shield'
I will be keeping the coilovers, but I will likely be removing everything else as they arent really necessary. I want a single exit exhaust as im not personally a fan of twins (have ended up with two!).
I've gone through the car and need to sort a few things, the following are my upcoming jobs to do before a track day or DWYB day in the next few months:-
Replace Clutch (known to be on the way out when buying it, negotiated into cost). Hopefully will get this done locally as i've been quoted £245 supplied and fitted, which seems reasonable (2mins down the road).
Source some clips/fasteners for the front bumper, as there are many missing. Same with the arch liners. It's got a scuff on the bumper and the clips are all now needed. (if anyone knows of a source for these it would be greatly appreciated).
Initial Changes/Parts Fitted
My aim for the car is to make it a decent fast road/track car, nothing fancy, just reliable and decent. I am VERY impressed with the mk2.5 engine, it is noticably more revvy than the other 1.8 engined mazdas i've owned, and is far more enjoyable to drive even at lower revs. It should prove to be a good base to start with. The bodywork is by no means clean, with a minor dent/scuff on almost every panel, but thats not what its for.
I have done the following since getting the car home and having some time to work on
it:-
Cusco Front Strut Brace

- This fouls the washer bottle (a washer bag will be sourced - these are £8 from ebay, so no big drama) and I will need to source a threaded washer to utilise the Brake Master Cylinder Stopper aspect of the bar. I did actually have the full BMCS bracket but as the mk2.5 master cylinder is about 3 times the size of the mk1 (the bar is from a mk1), the bracket is surplus to requirements. A simple bolt is necessary to create a master cylinder stopper, as the drilled hole in the bar is located perfectly.

Carbing Aluminium Radiator Cooling Panel

- This was left over from my previous cars. fitted perfectly. needs a clean but trial fitted for now and should be a great addition. weighs nearly nothing so no harm done there.
Pics of these two
fitted:-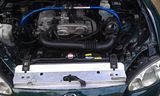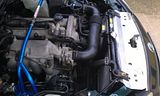 Pics indicating the ease in which a BMCS can be adapted with a threaded washer or press in fitting to the available hole in the
brace:-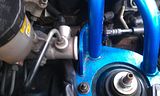 Intake Ideas
I am not a fan of having the filter sat above the exhaust manifold. the stock heatshield/manifold is in situ, so it's not as bad as say, having everything exposed, and the original heatshield panel thing for the OEM airbox has been bodged in such a way that it acts as a ghetto shield for the cone filter. I had some flexible silicone ducting (70mm, so ideal) laying about so thought I would try to experiment to come up with something a little more suitable. That being, getting the filter further forward and away from the warm manifold.
I haven't trimmed anything down yet so it's literally a 1m length of hose thats been wriggled around to fit where I want it, but this is what I have come up with so
far:-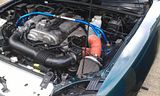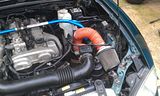 As mentioned, it's in no way finished yet and was just me experimenting, but the filter does sit snug in there and with some trimming of the flexi hose and some creatively positioned cable ties, I should be able to come up with a workable solution. The hose is collapsable so I may not even need to trim it - this remains to be seen. I have an ARC induction chamber on the way that will be fitted and the intake hosing tidied up/trimmed to suit. I will likely be combining this with some thermal reflective wrap to try and minimise heat transfer into the intake.
I've also thrown on a spare set of wheels I had in the garage (Rays / Volk splits). They are 16's with staggered tyres, which are very good condition T1R's. they are just my spares, I appreciate the offset is terrible. They have also been resprayed by Stevie Wonder, on crack, whilst wanking. However, they are round/straight/true, balanced and with good tyres, so they'll do for now. Shit pic but i'll get some better ones when I
can:-
Obligatory suspension pic - need to clean them up but i wiped them quickly with a cloth and all the threads seem clean, the locking rings appear clean and unseized with no visible damage from being set before, so once I have the time to remove and clean them up properly they should last me well (dark stain was where my cloth had some WD40 on it):-
I will update later with my future plans for the car (it needs to be lowered a little, first port of call, although not slammed as I hate that look). Need to crack on with some work now, but yeah, thats my introduction