Hi fellas,
since i joined Nutz a while ago and promised pictures here we go (just copying posts from Clubroadster for the start).
That's the car as a bought it: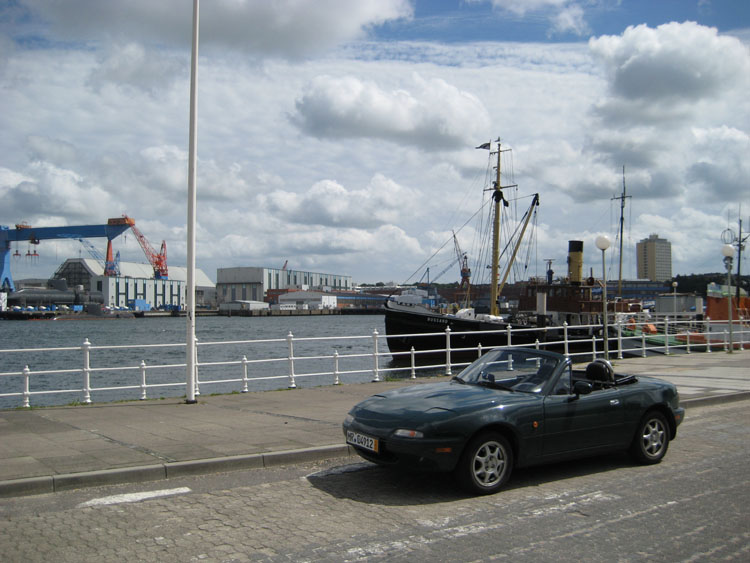 (at the german coast)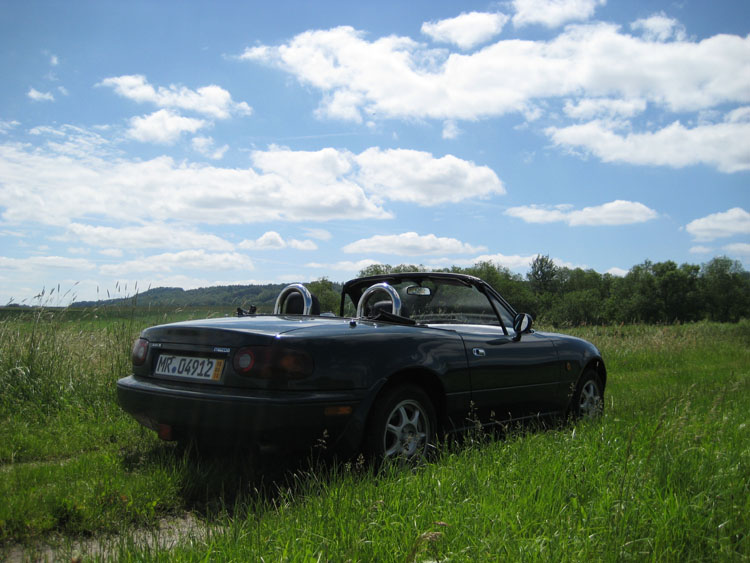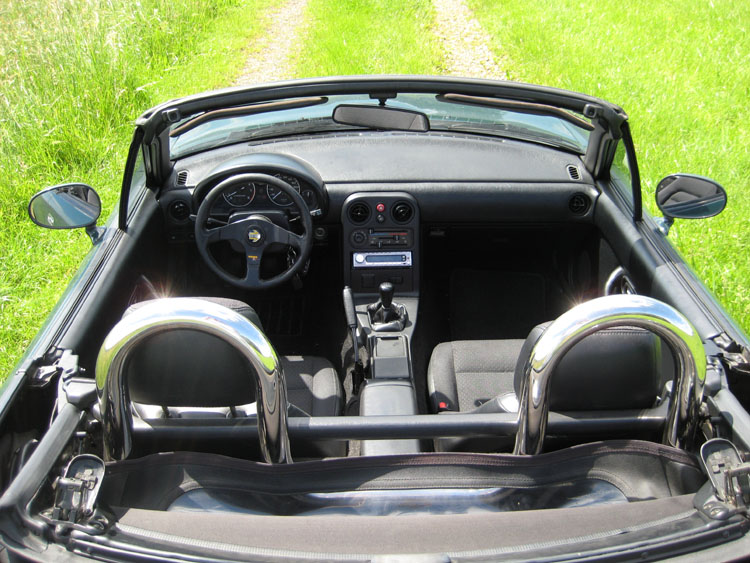 (just where i live)
I'm gonna try to keep the car as JDM as possible.
First things to sort out:
Suspension
Catalytic converter
Tires
Already have some BP tuning parts from my 323 project
Will keep you posted about the progress.
---
Yesterday i started fitting Miata side markers and S800 mirrors, did the Eunos Roadster rebadging and also removed the silly "rollbar"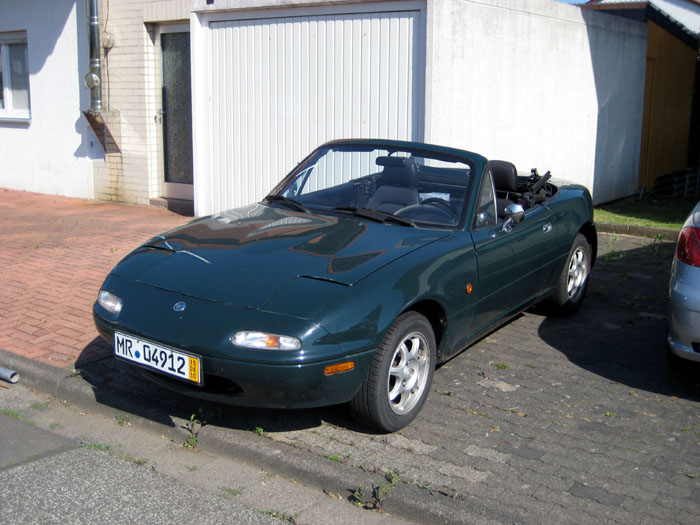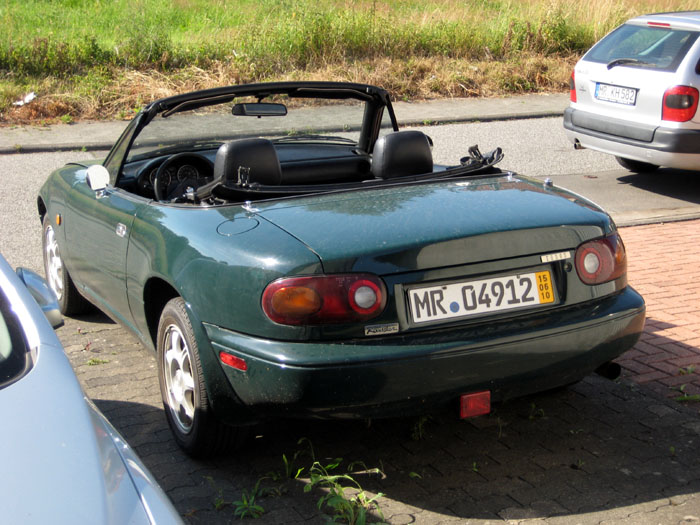 And discovered a drowned sparkplug: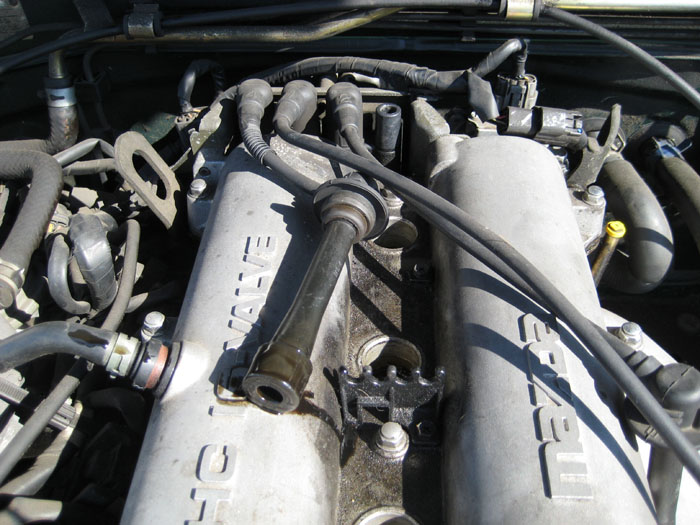 So I'll be painting the valve cover today and change plugs, wires and the gasket.
Also waiting for action:
- Front strut brace
- JDM door sills and speaker covers
- Magnaflow Cat
- NB 1.8 4-2-1 headers
Stil in the process of deciding on wheels (14 or 15") and suspension (Tein SS vs. KYB AGX + Eibach springs).
So there's enough work coming up and i cant even find time to wash the Astina...
---
Today's piece of results:
Note that not one but all 4 spark plugs were bathed in oil....
Painted valve cover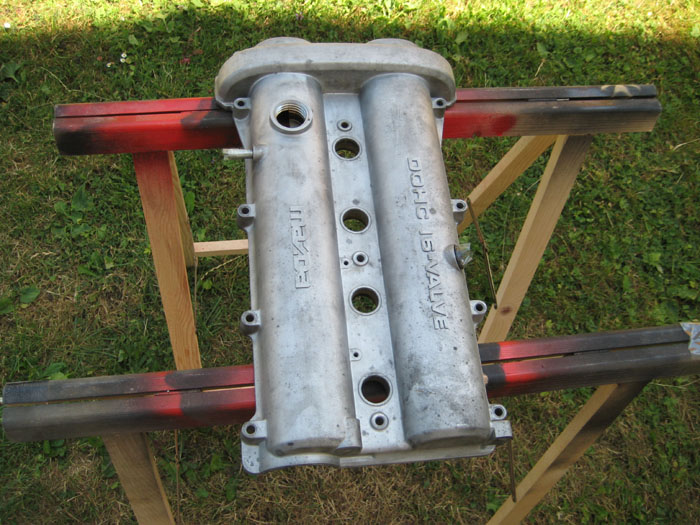 oily mess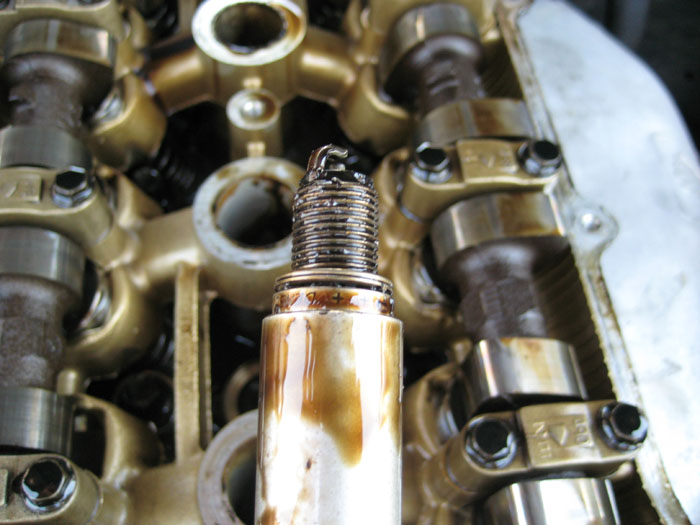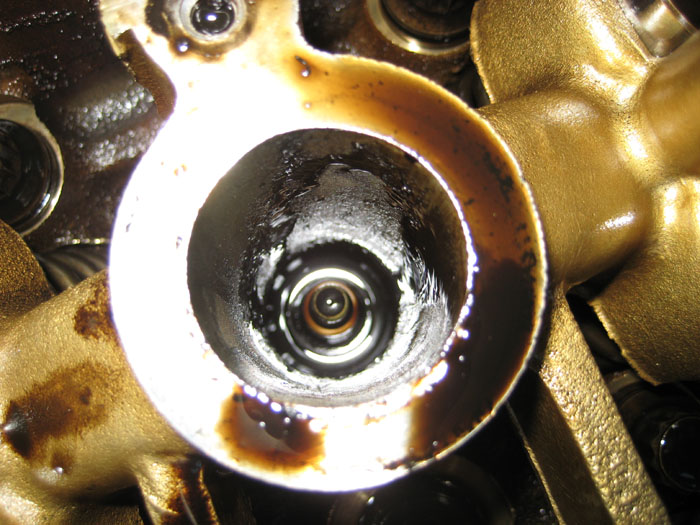 valve cover with new plugs and wires + added strut brace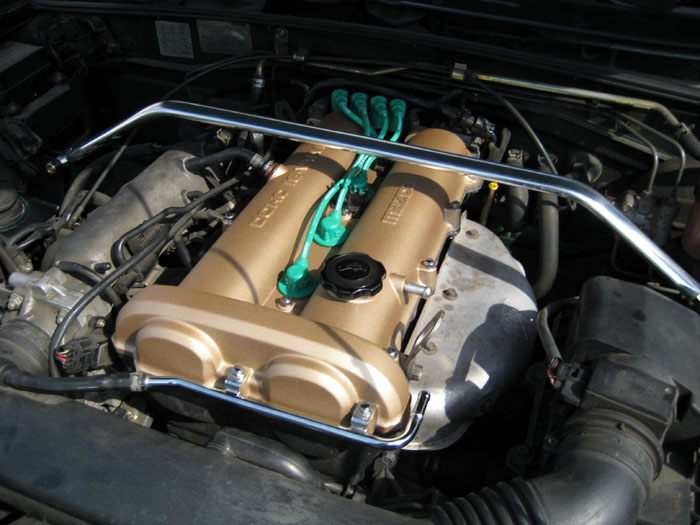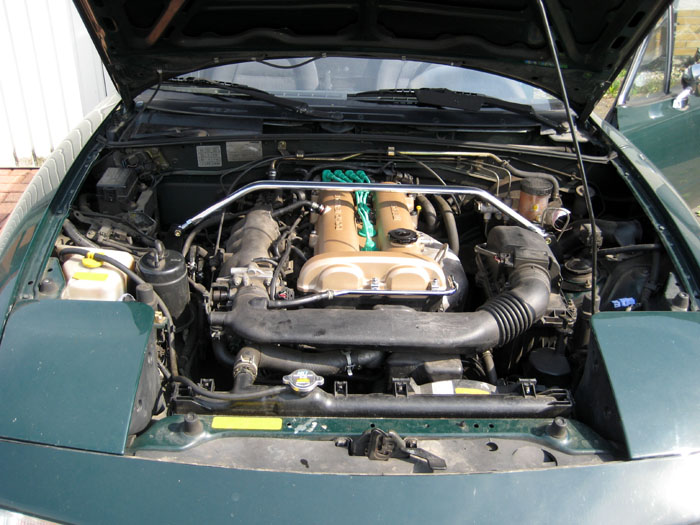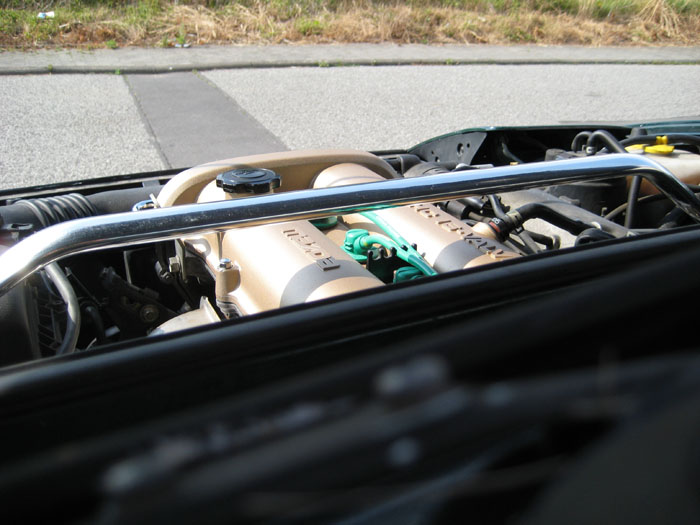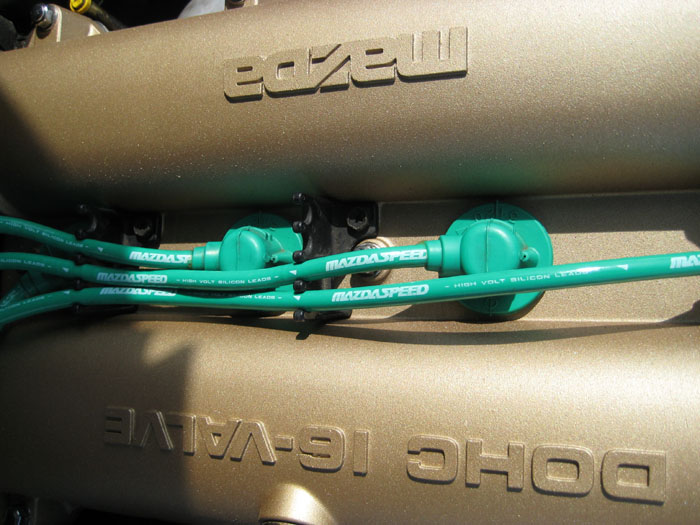 JDM interiour bits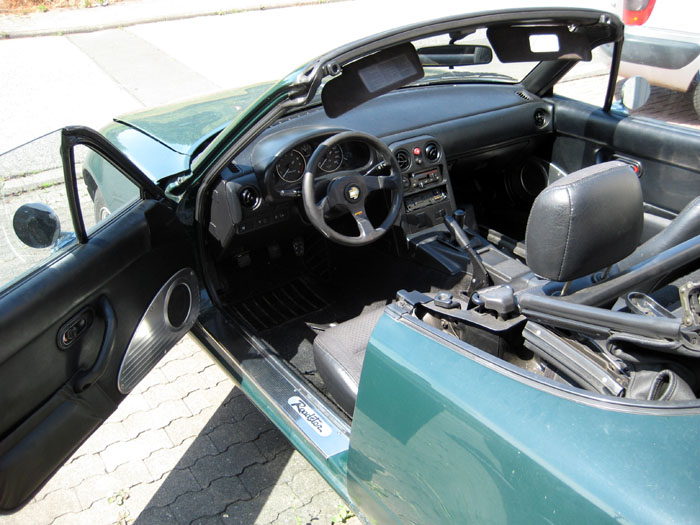 ---
Few minor changes:
1. Swapped the old monster washer tank for a neat small one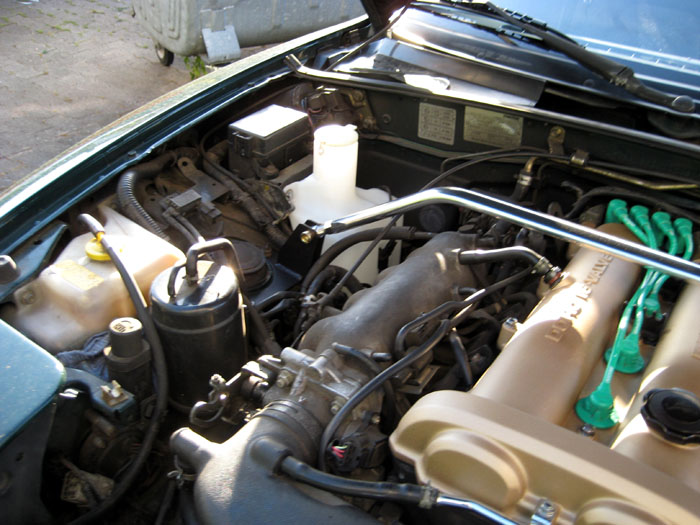 (old and new)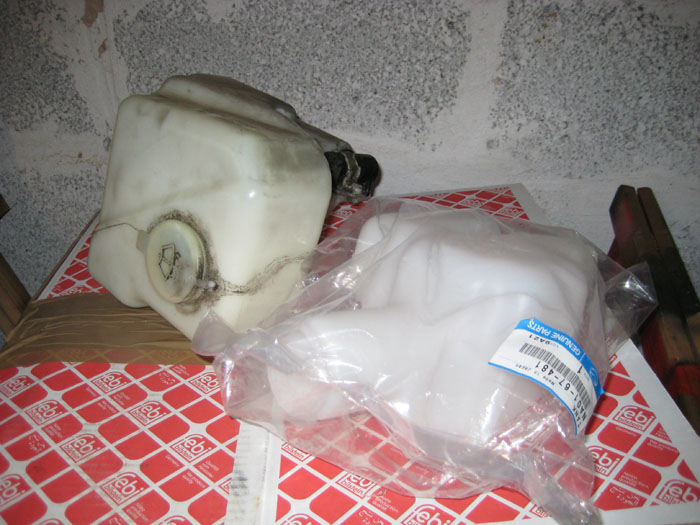 2. Found a vintage vdo gauge in the basment and installed it - note how the design matches the heater switch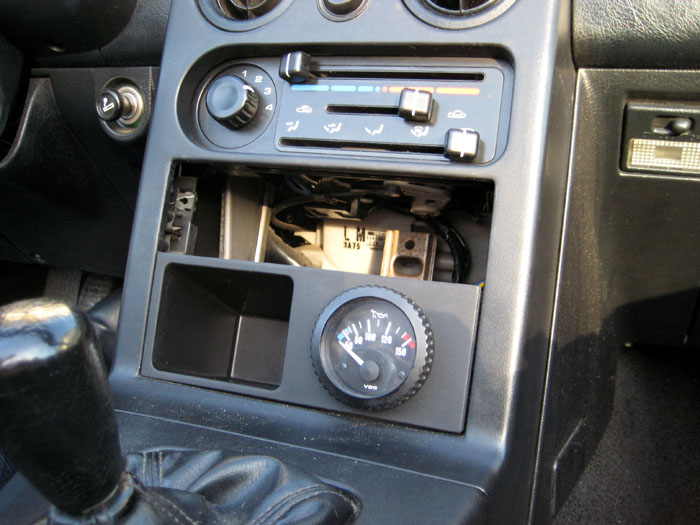 3. Relocated the number plate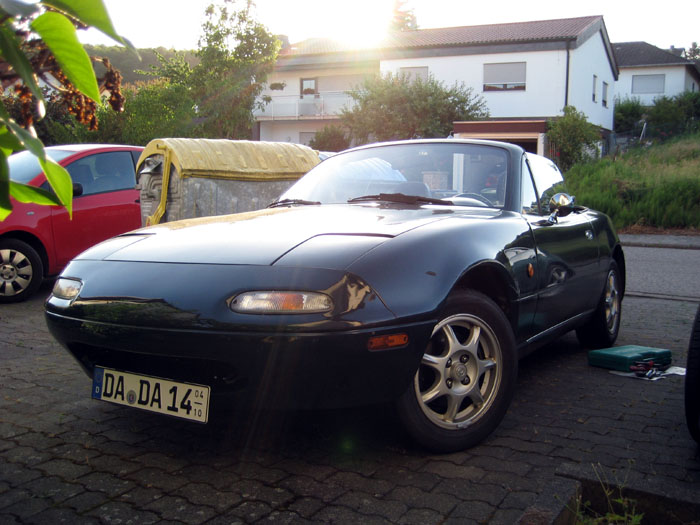 ---
Right, since the car was down on power since i bought it i changed the exhaust and cat today and woooooooooooo, what a difference. Before the car lost power at 4krpm, now its smooth all the way up to 7k
Imported a Magnaflow cat from the US and got lucky on the exhaust: got a JDM Car Make Corn's "Silent" catback and i have to say, it's just lovely! Makes a brilliant Roadster sound and yet it's quiet when you just cruise along...pedal to the metal will result in - for me - acoustic perfection.
So, i'm quite happy and would do it again without hesitation!
Only one pic - old and new in comparison:
Next on the list:
Fit the JR intake - currently waiting for a new air box since the first one was already broken - brilliant quality plastic there....
---
Started fitting the JR Intake today at 7PM and stopped at 9.30 due to darkness with most things sorted except wiring and the hood rod (which wont work if you have a strut brace - thanks so much!
Fitment is a pain in the butt - i ended up grinding a strut of the radiator fan, grinding the airbox and destroying a piece of hose....on top of that the build quality is rather poor (to be understating) - for such an expensive product it's just ridiculous!
Anyway, here's a sneak preview:
I hope at least the performance is good - the one time i don't buy JDM because there isnt anything on the market (why exactly is that??) it turns out to be crap quality.
---
Right, finished the install this morning and immediately testdrove the setup - well, what can i say?
Does it add 10-14bhp as they say?
Certainly doesnt feel that way - dont really feel that high rpm performance boost that was advertised. Maybe the torque band has changed a bit but that's it.
Does it sound well?
Dont know really - i guess it's ok. Most noise when driving is created by the Corn's - however on the outside it's almost spectacularly close to ITBs under full load.
What's the downside?
Eh, where do i start?
Had to grind the fan and the aibox which is still not fitting properly. Had to cut the wiring harness and some tubes, one coolant tube at the thermostat is now leaking doe to applied pressure when installing the airbox. The box itself is now scratched at the back for the same reason (the installation manual says "push hard" by the way).
What's more, all the parts look and feel cheap. I dont know how long this box will last but i dont expect much.
Oh, before i forget: idle now sounds crappy - lot of popping noise from the airbox.
Do i think it's worth it?
No.
What does it sound like?
To be honest, for that kind of money i really expected more. Will try to return it although i doubt this will work...
I've been modifying cars for over 10 years now and things are usually cheap and crappy or great and expensive. This is just crappy and expensive. And no, i didn't mess up the installation, it just dont fit properly.
So, this is the first mod i wish i hadnt done...
---
Right, that's my progress so far.
On that last note, does anyone know a supplyer for the NA8C ARC Intake Chamber in the UK (not overseas)?
Cheers,
Chris