Well Ladies and Gents, the time has come to reveal my project to the eyes of the appreciative enthusiasts like yourselves? I have bought and (nearly) finished a:
Mazda Miata Turbo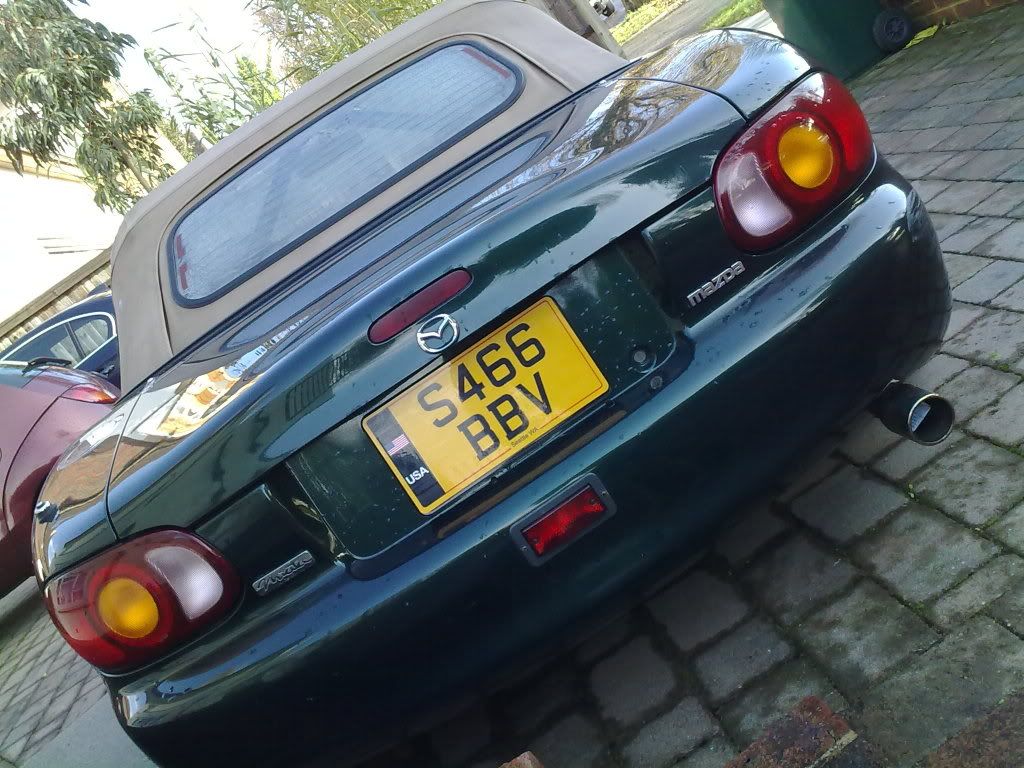 Yes, you read that right, not a Eunos, not an MX5. This baby kinda ended up over here by accident – one gentleman called Richard owned the vehicle in the USA for a long time and could not bear to leave it behind when he returned to his home country. I attained Richard's address from the wads of service history and mailed him for information; we've kept in touch by email since. He even sent me a pic of the car in the States at what looks like the Grand Canyon! How cool is that!
Before I begin, it's important you know what my mode of transport was while this thing was in bits on the drive....
This battered old 1990 Polo carted various bits of Miata around the counrty and deserved a medal as it only cost me Forty quid (with an MOT!). It took engines, blocks, cranks, a turbocharger, you name it! So a personal thanks to the 1.0ltr, 4spd Polo of Doom riding my Eunos alloys!
To my knowledge, the car was sold as a stock '99 Miata in Seattle before being turbocharged by Corky Bell himself and sold less than a year later to the aforementioned Richard. In the time this car lived in the States, it had fitted:
TurboTechnics Garret T25 Turbocharger
Greddy tunable BOV
Intercooler
Uprgaded Ali oversized radiator
Hard Dog rollbar assembly (Double cross bar – functional)
Upgraded suspension inc. Springs, Shocks, Massive antiroll bars front and rear with Poly bushes
Flyin' Miata FM2 Piggyback ECU (Replaced whatever BEGi had installed)
Greddy Profec Boost Controller
Greddy Turbo Timer
Boost gauge and Narrowband AFR gauge
Upgraded the Bose sound system with touch screen JVC flippy-screeny-changy-coloury thing that I don't know how to use, more powerful speakers and amplifier (So it sounds the puppies)
Alarm with remote boot release
Hydraulic bonnet strut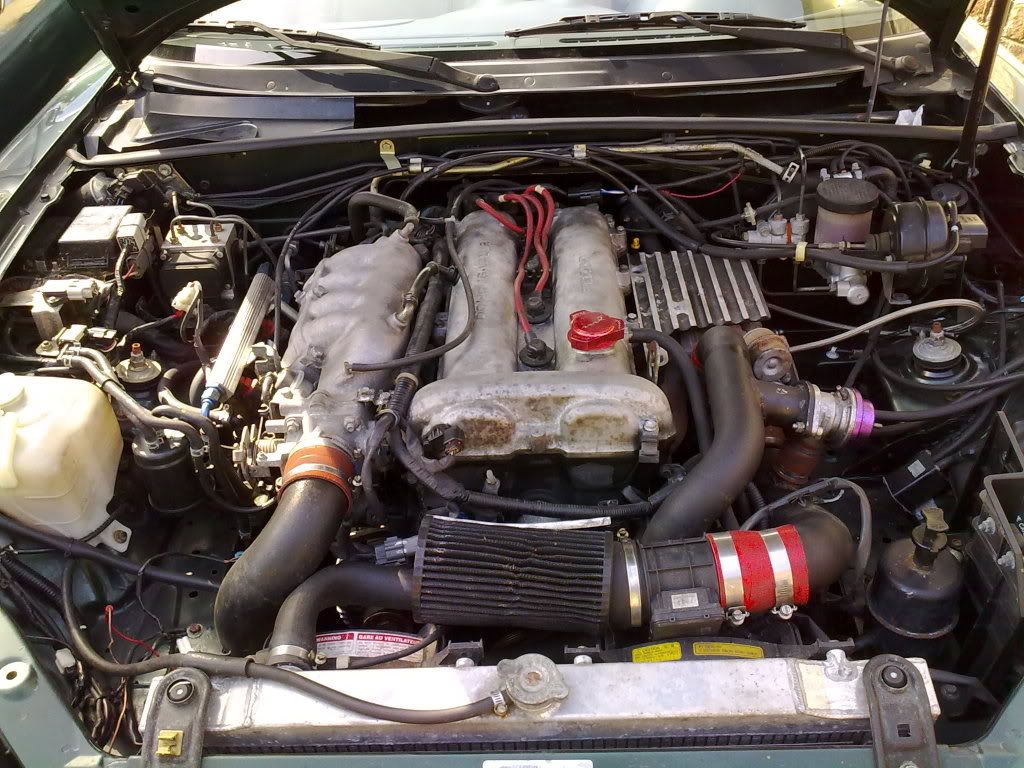 In addition, the car was US spec'd to the brim coming with:
Twin Airbags
Tan Leather
Glass Rear window
Cruise Control
ABS
Torsen LSD
A/C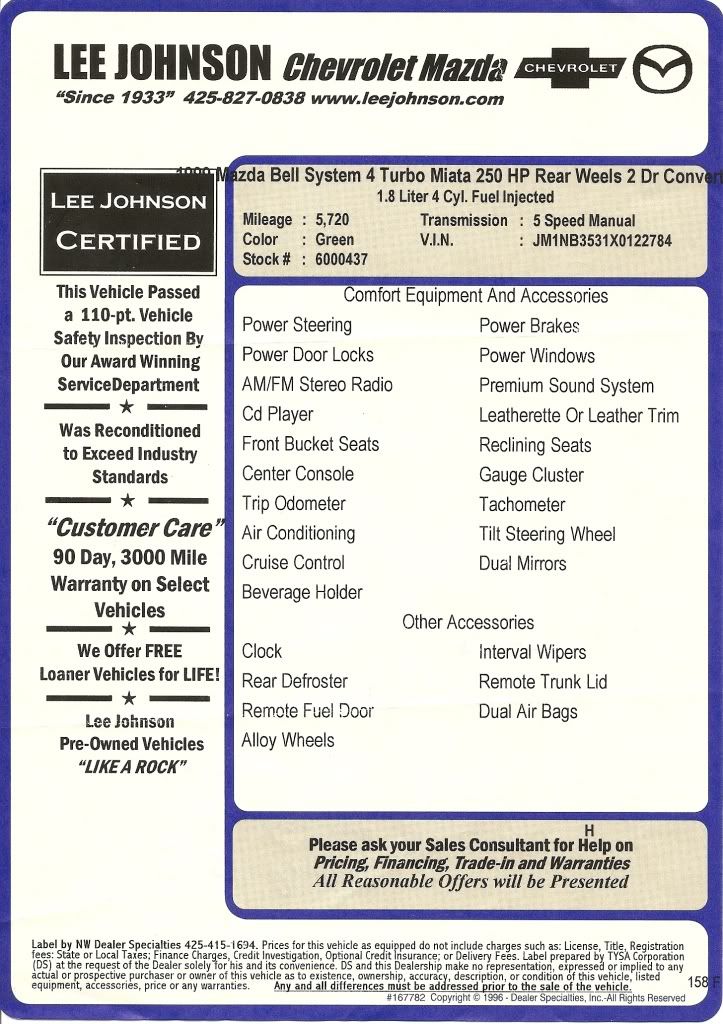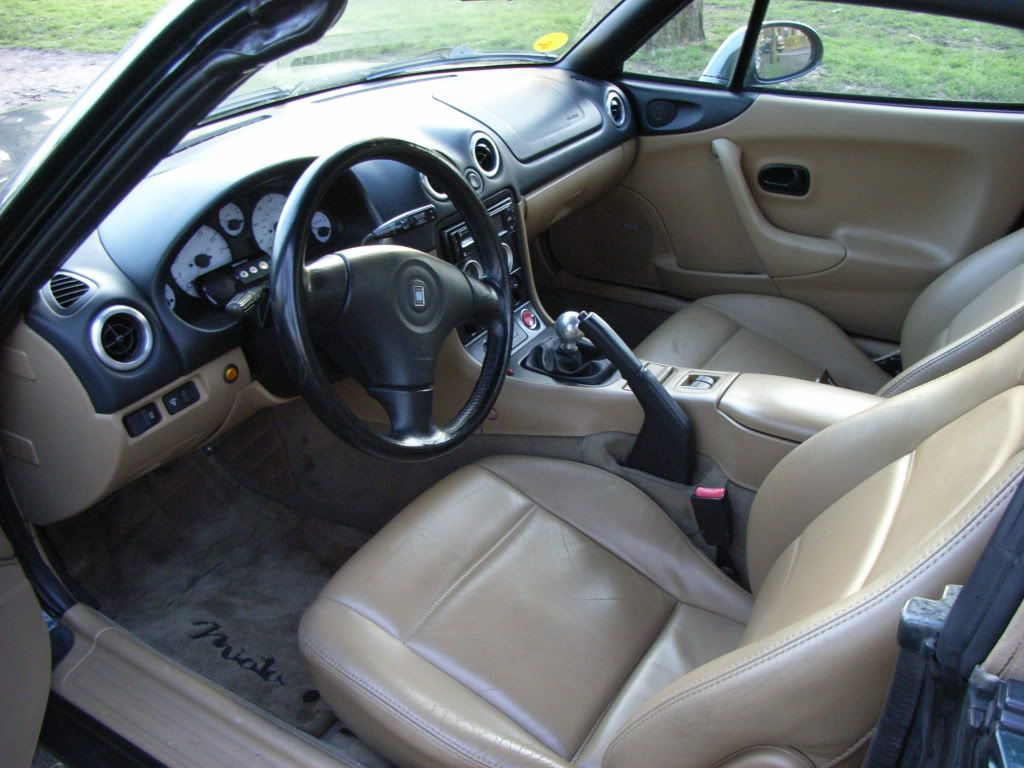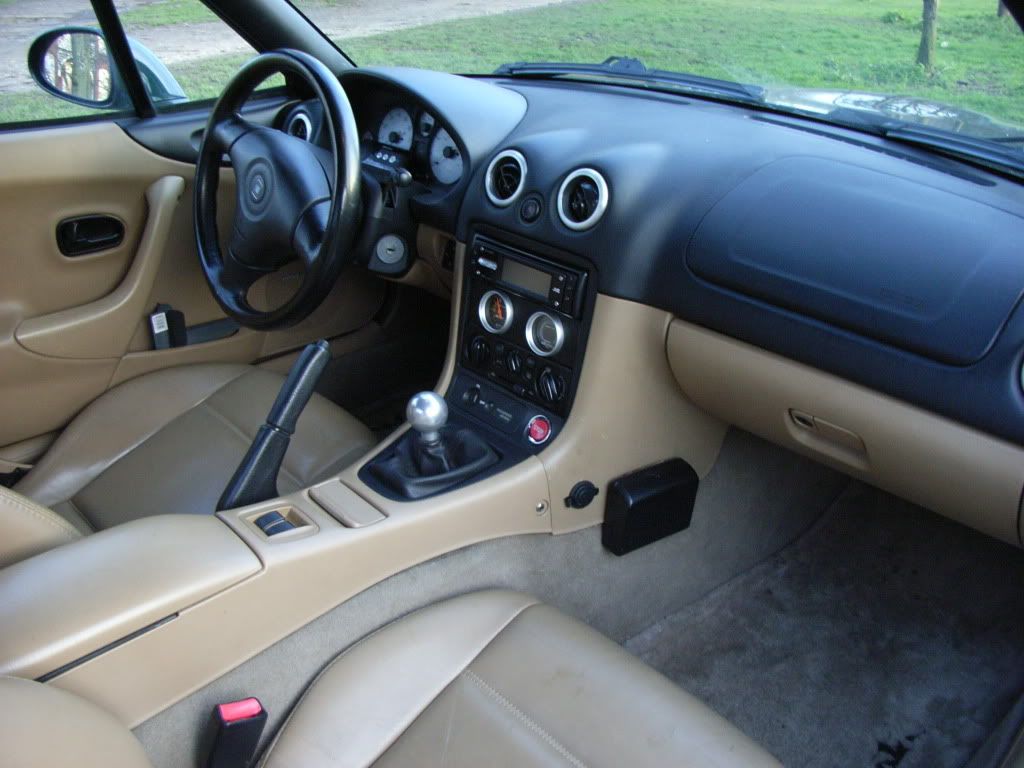 There are dyno maps in the service history rating power at 197 bhp at the wheels.
All sounds a bit too good to be true, right? Right.
In the time Richard had the car in Seattle, it ran on it's BP4W engine, turbo and 8-injector (yes, it has eight injectors!) arrangement quite happily, then he moved (emigrated!) to Texas. That's when the 'first' engine blew up?
The engine was replaced along with the turbocharger and it ran happily for another few years when Richard decided to move back home to the UK. Given the amount of cash spent on the car, it seemed daft to leave it behind and so it was shipped to the UK with him where it resided somewhere near London. Then the second engine blew up?
Richard had yet a third engine and turbocharger fitted and then became fed up with having a car that he felt nervous to drive. He gave up, sold it and bought a VW diesel!
Not realising how rare an American import Miata (never mind turbocharged!) was, the car went through a few hands until it got to a very unfortunate Polish chap called Greg (Ooh, it's like writing a story!)? I say unfortunate because three days after he handed over the £5000 odd to the Chesham LHD centre, the third engine began to knock? Badly. Greg couldn't afford to have the engine put right and so I bought it from him in a worse state that it was three days after he bought it, I can tell you?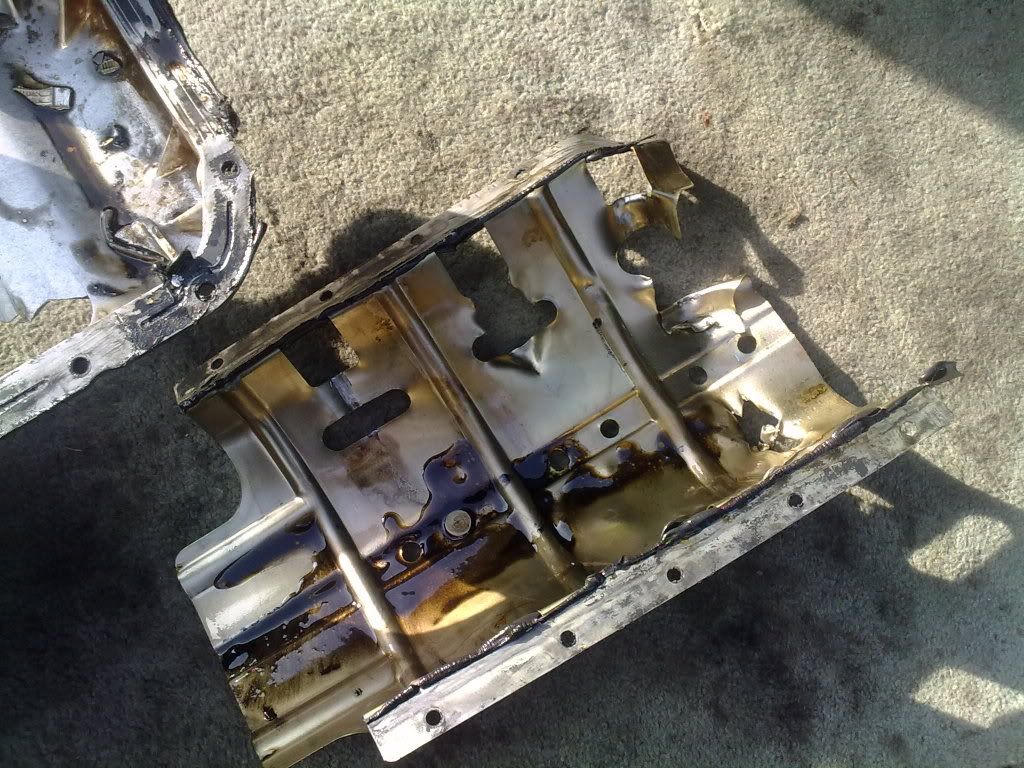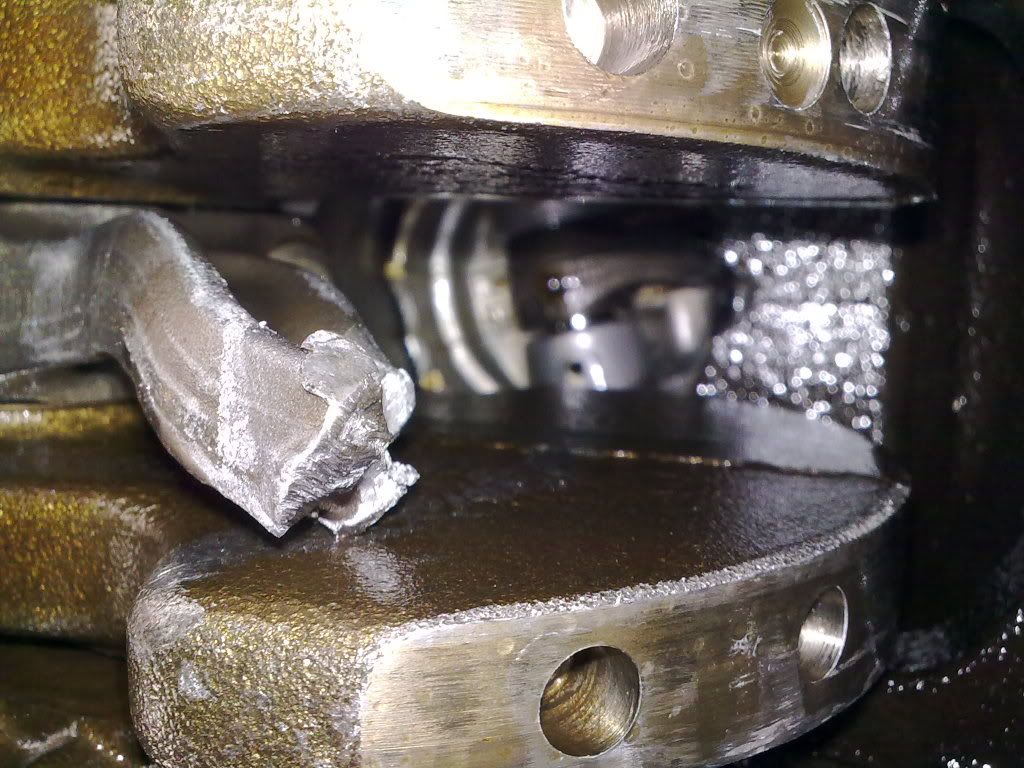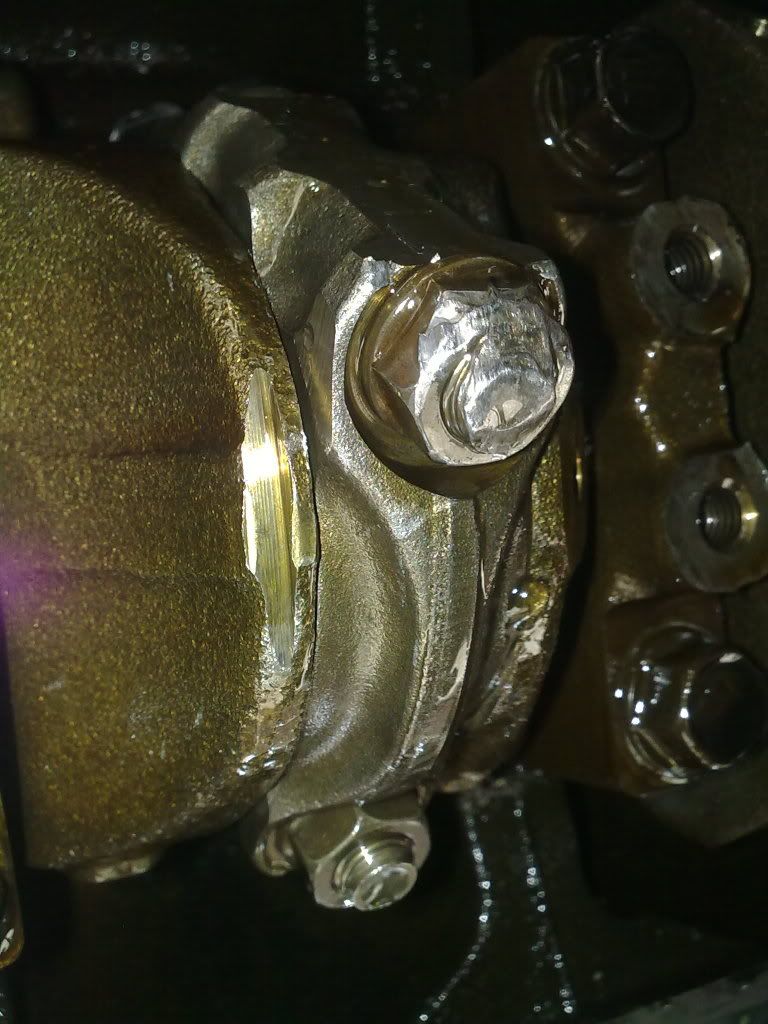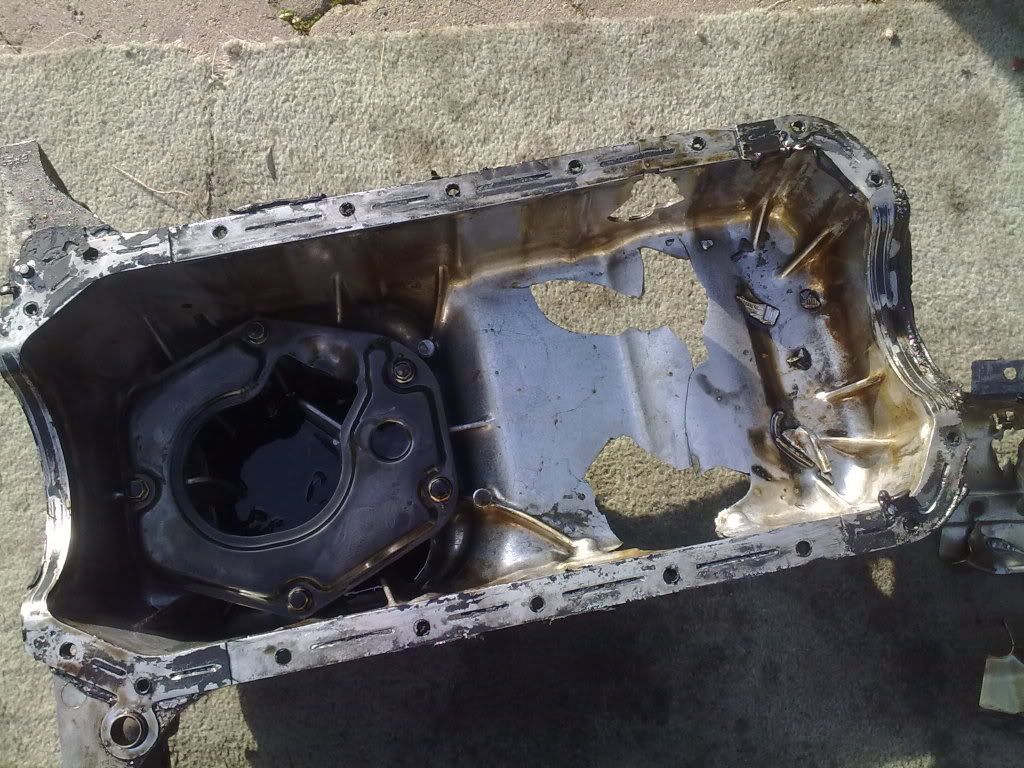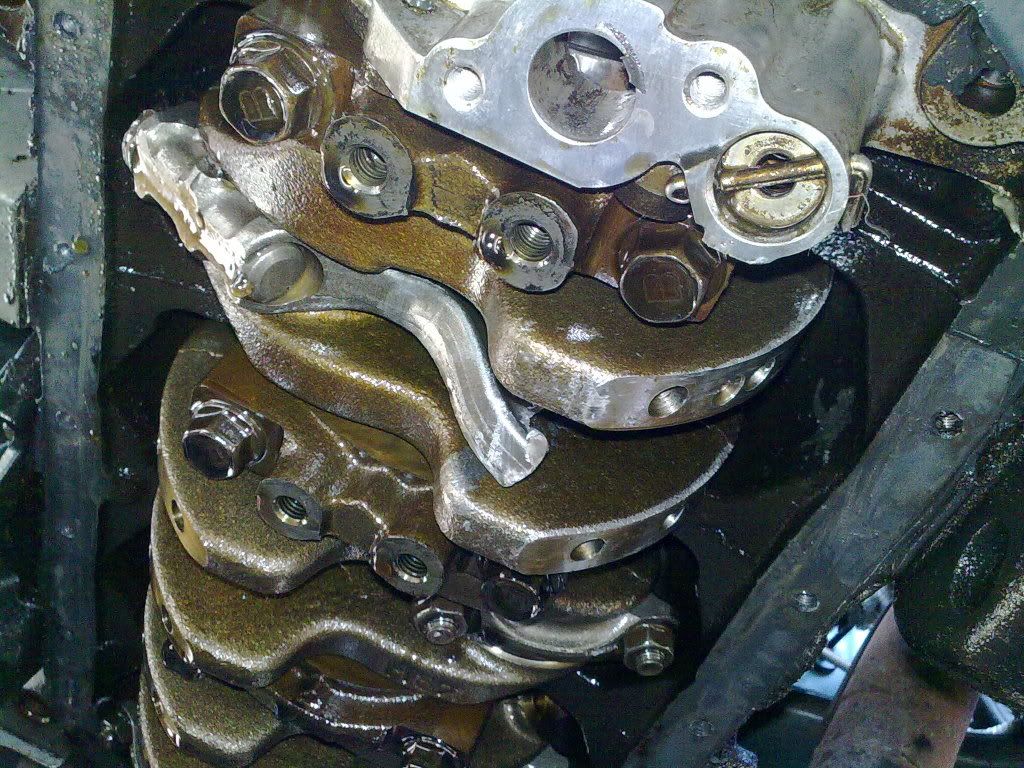 I wasn't kidding about the catastrophic bit, was I?!
From what I could gather, the age old '99 BP thrust bearing problem had occurred, causing excessive thrust in the crank?. Clutch was put down, oil seal popped out from behind the crank pulley, oil drained while running, piston 1 got stuck at the top of the cylinder?. Then two things happened:
1. Top half of the conrod smacked the cylinder wall so hard, it smashed through, piston spun round in the bore under the force.
2. Bottom half of the conrod continued to spin, smashing up the baffle, making Swiss cheese out of the sump and then throwing metal filings through the oil system up to the head killing the desirable BP4W cylinder head by picking up on a cam and journal. In addition, the force of the thrown rod bent the crank!
SO? Third engine cooked. Of course it was sods law I didn't find out the cylinder head was stuffed until halfway through the rebuild when I'd long run out of money!
ENGINE COMING OUT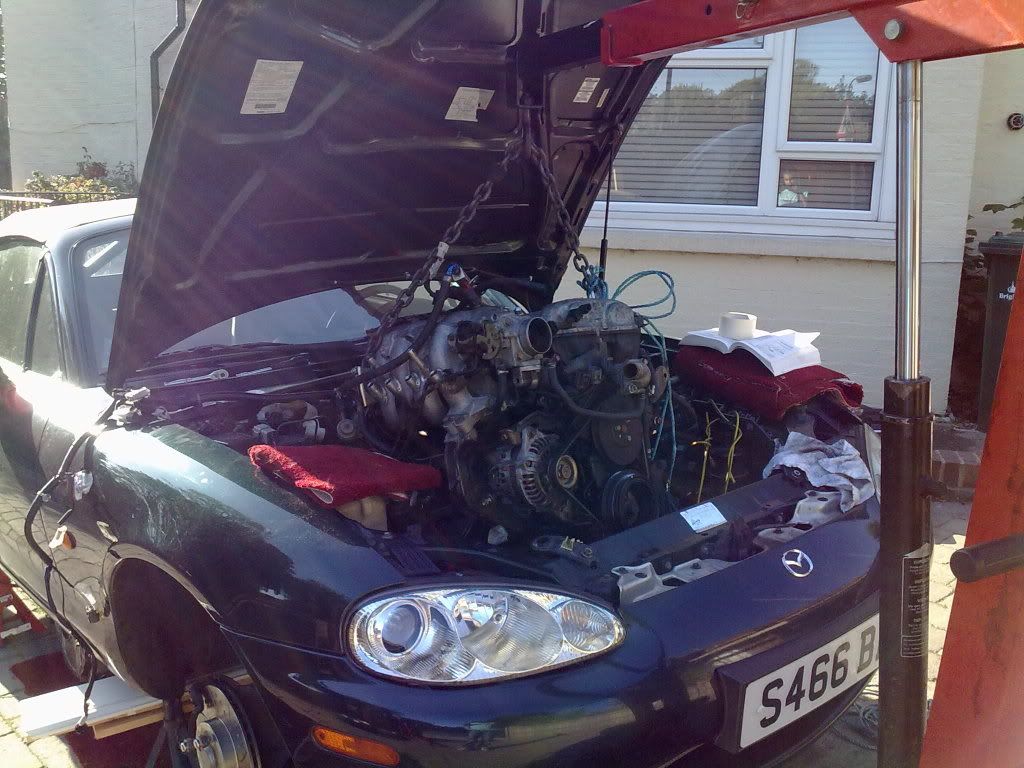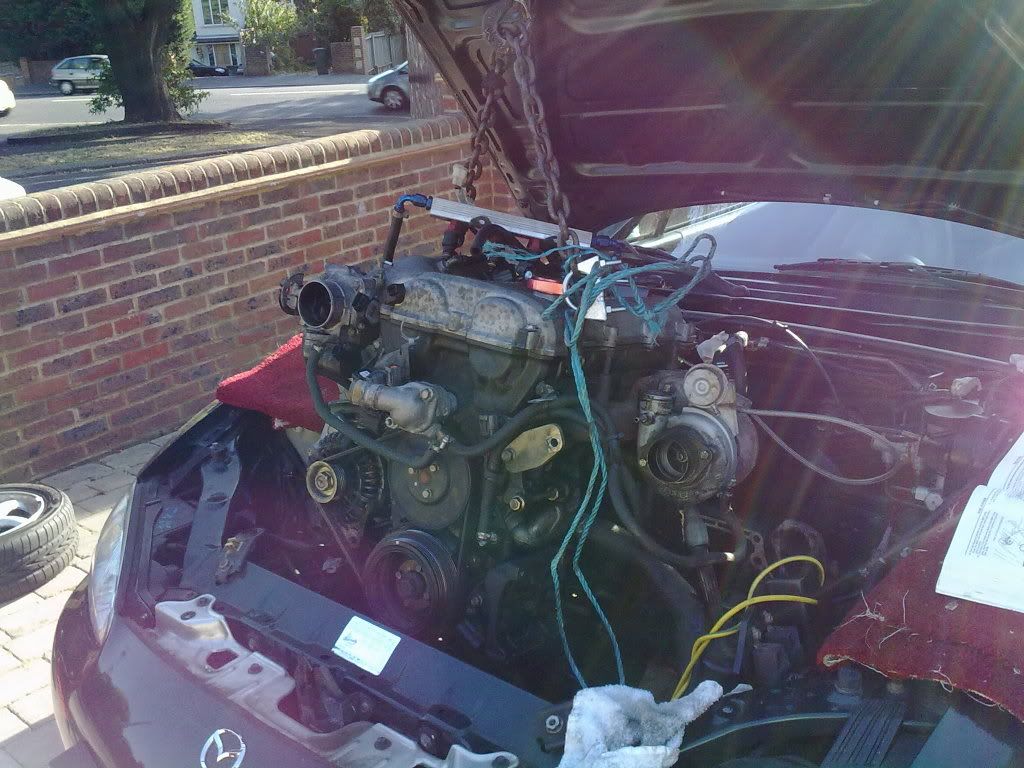 I spent the winter rebuilding this thing and making a few mods along the way:
9x6" US coded plates Front and Rear (yes, I have been pulled for them, once so far!)
Drilled and Grooved Discs all the way round
A familiar strut brace under the hood
While stripping the engine down, it dawned on me that I had no way of modifying the maps in the piggyback as the control pad for it had gone missing at some point between Richard and I. In light of this thought, I spent a long time frantically trying to get hold of a Link ECU control pad made in NZ eight years ago. Finally, Flyin Miata found me a second hand number for the cost of £86 including postage to an address in Rhode Island; as it happened, my American friend was going home there for Christmas and brought it back with him in his hand luggage – Thanks Al!
It wasn't until my engine builder Lee Ormond of Lancing had a good look at the engine that we discovered it was a complete write off, which is where our good friend SKUZZLE (Nick) came in a real diamond; Nick sorted me out an earlier BP engine (Blocks are nearly identical all the way through to now), pistons, rods and some brand new oversized Mazda pistons (the biggest on offer), that I didn't end up using (they are now for sale if anyone's interested!). Nick threw in loads of spares and after Lee had measured all the tolerances, it turned out the engine was perfect, bar a little wear on the thrust face – Lee had a special oversized thrust bearing made up so that everything was perfect when built.
OLD ENGINE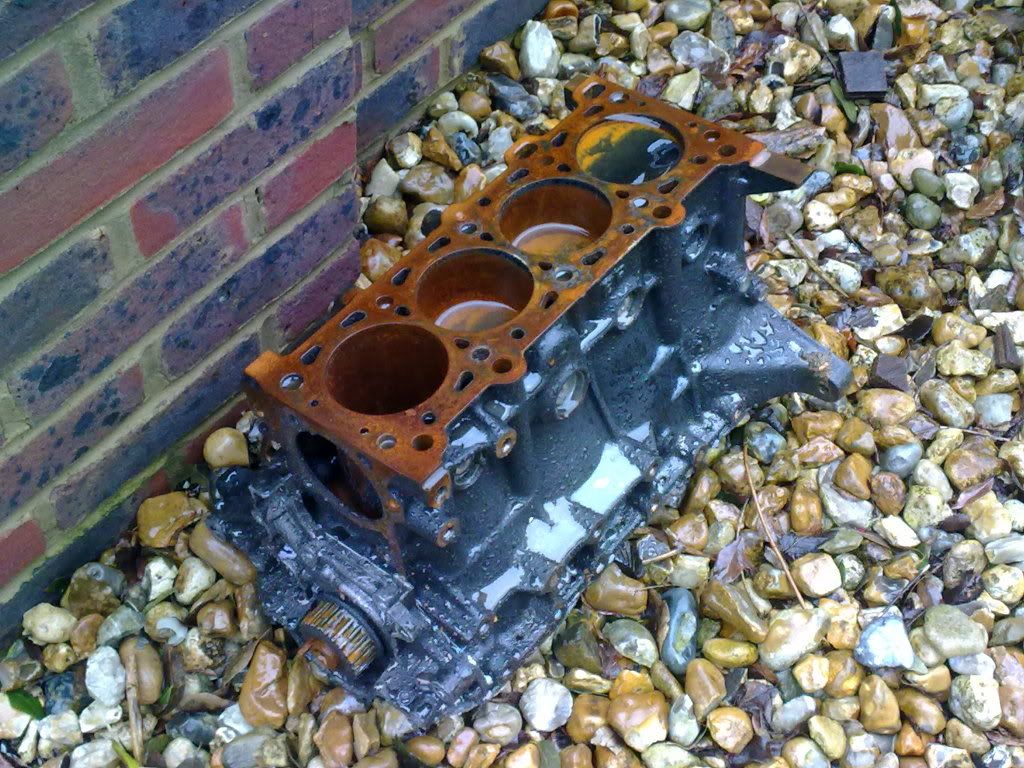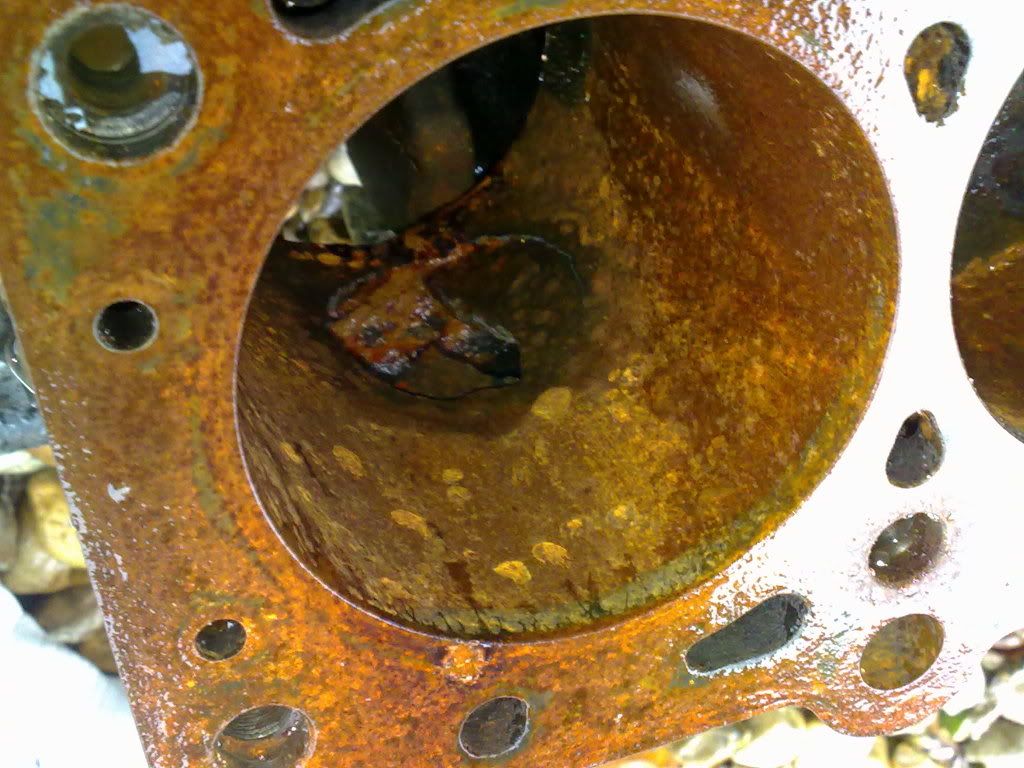 OLD ENGINE JUST STRIPPED
NEW ENGINE IN WORKSHOP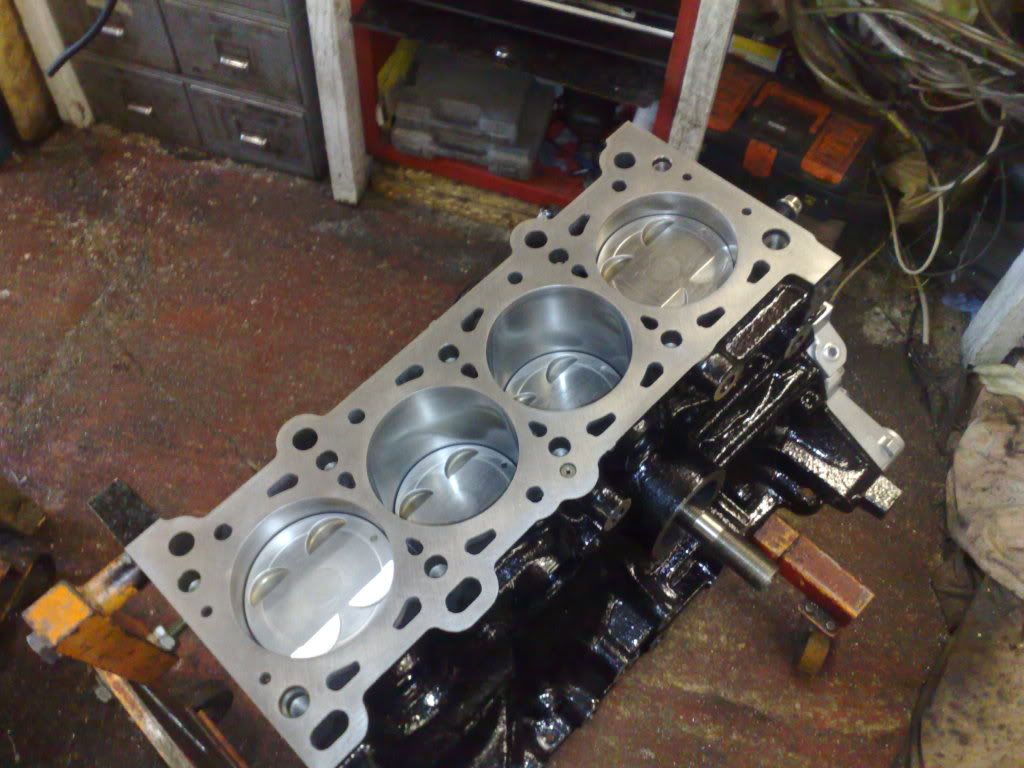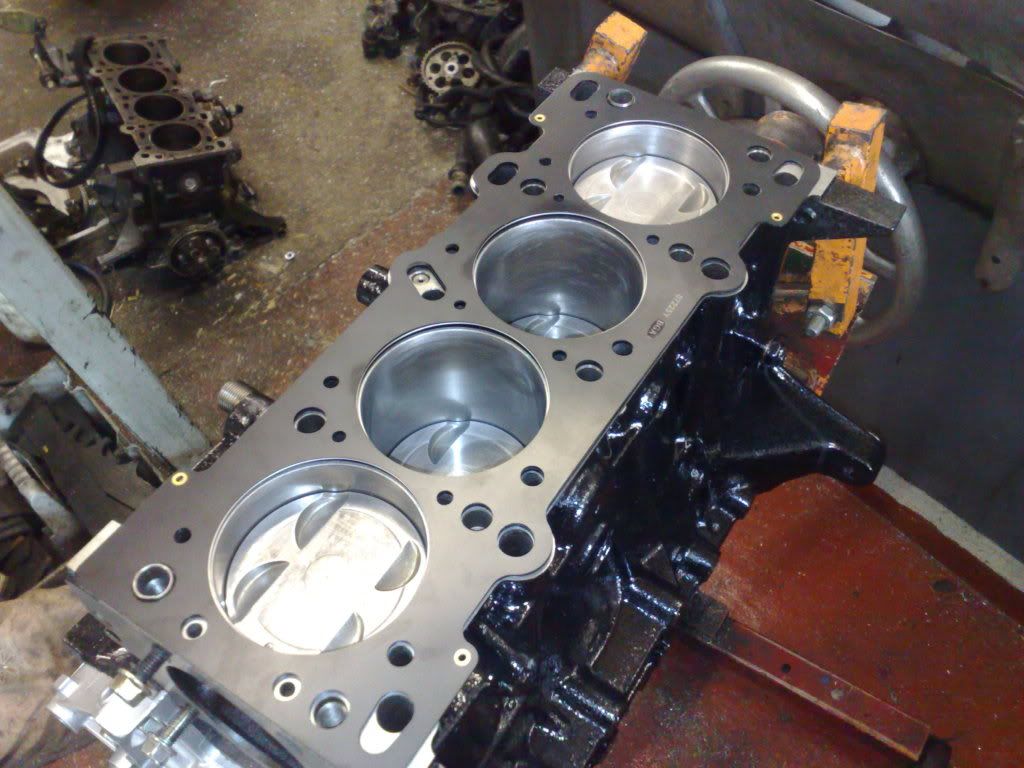 By the time the bottom end was assembled, it was so brilliant, you could literally spin the engine over on the engine lube with your finger and thumb. Lee had fitted it with racing rings and bearings all the way through, knowing it was going to be turbocharged.
In addition, the block was skimmed and the crank polished.
Then, I got a phone call to tell me the head was no good – I could quite possibly have cried! That's when Chris in Milton Keynes came to the rescue? He posted an ad on Nutz for a free cylinder head that was taking up space, so I told the other half we were going to Milton Keynes shopping and craftily left for Brighton via Chris' house?. I left beer and he had one less cylinder head on his doorstep!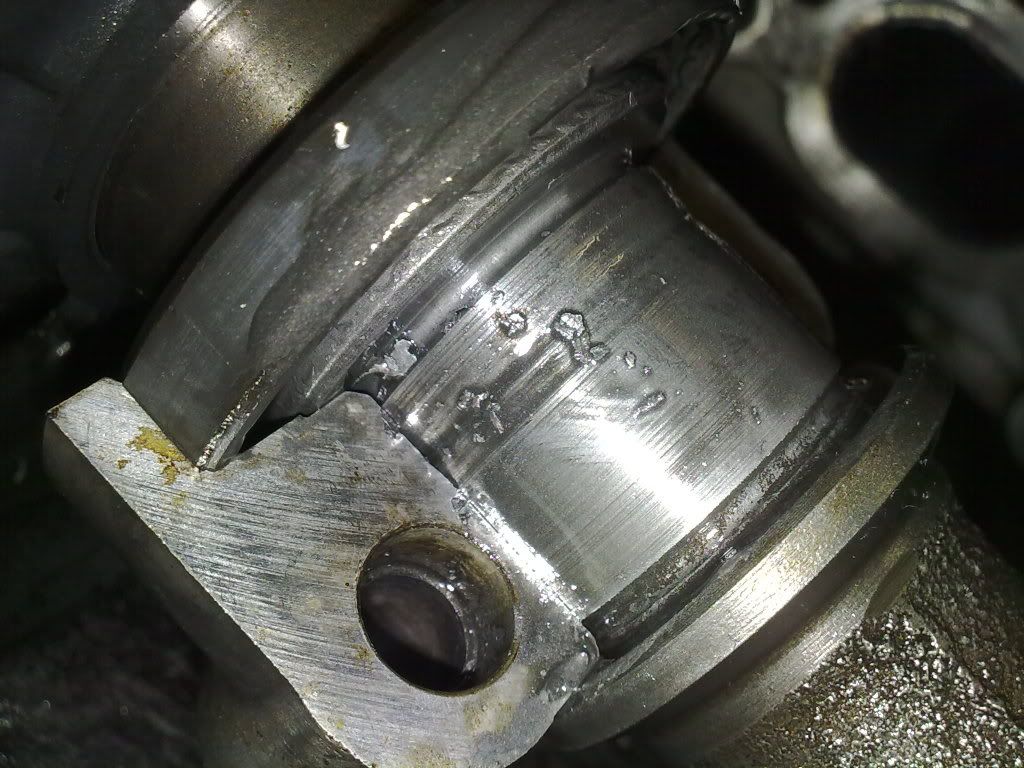 Ok, so the head was not quite right, it's a BP head, not BP4W – the BP4W has a slightly different splay and valve angle, the cams are stamped differently although they look identical and the injector seats are at a different angle, not to mention the inlet manifolds mount in slightly different positions? In any case, I couldn't afford £300 for another head, and this one just needed a skim! Chris had already re-seated all the valves and fit them with new stem seals, so it was basically a bolt on? It should also be noted that the stock ECU is stamped with BP4W.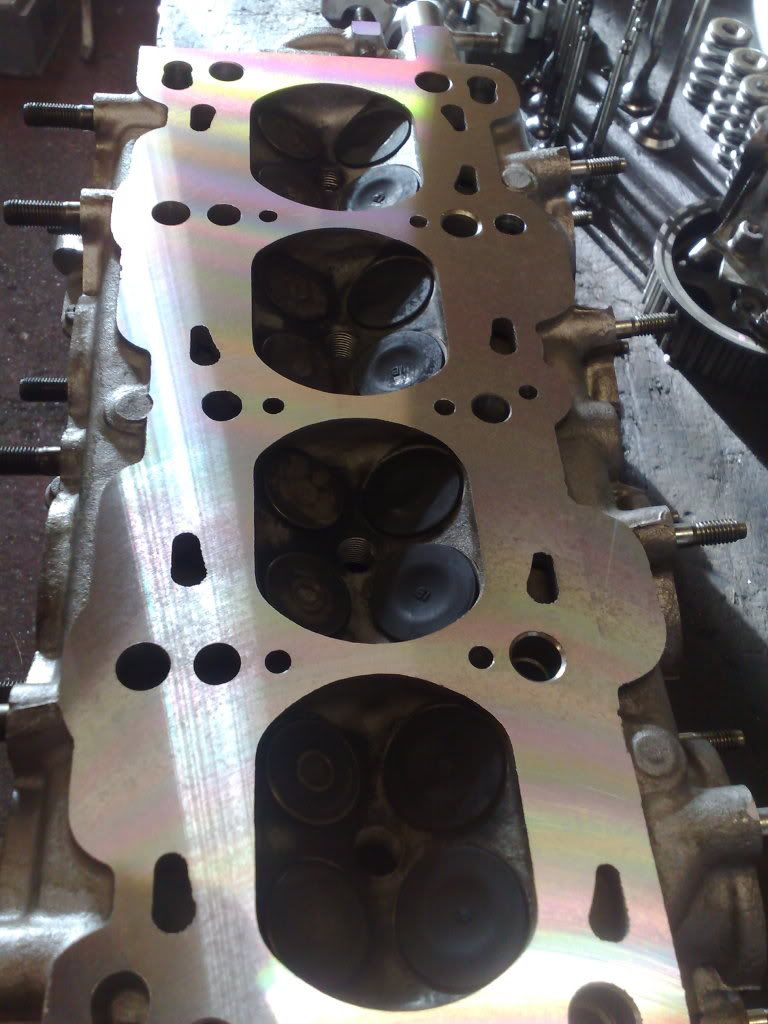 Moving on?. Lot's of paint, a few trips to 'South Coast Hydraulics' and some swearing later, I had a built engine. Had some issues with the oil drain from the turbo to the sump, so the guys at SCH lathed me up a bespoke part to screw the drain into the sump with; they have also recently supplied me a shiny new black fuel pressure gauge as the cheap one I had blew up on Shoreham Airport.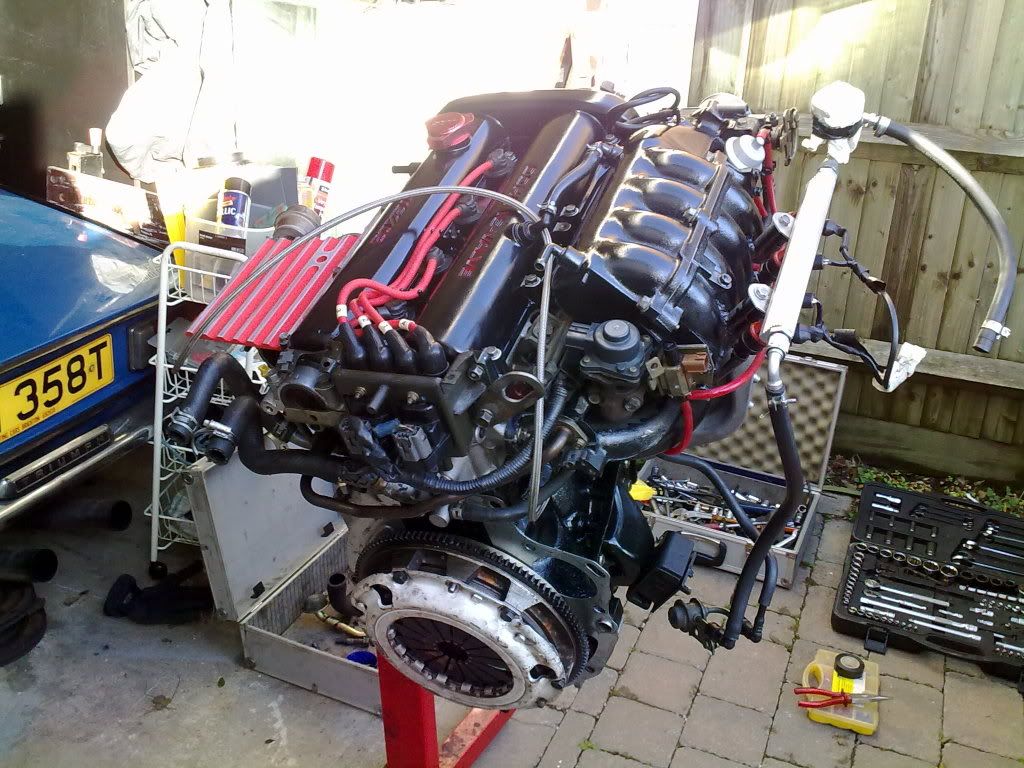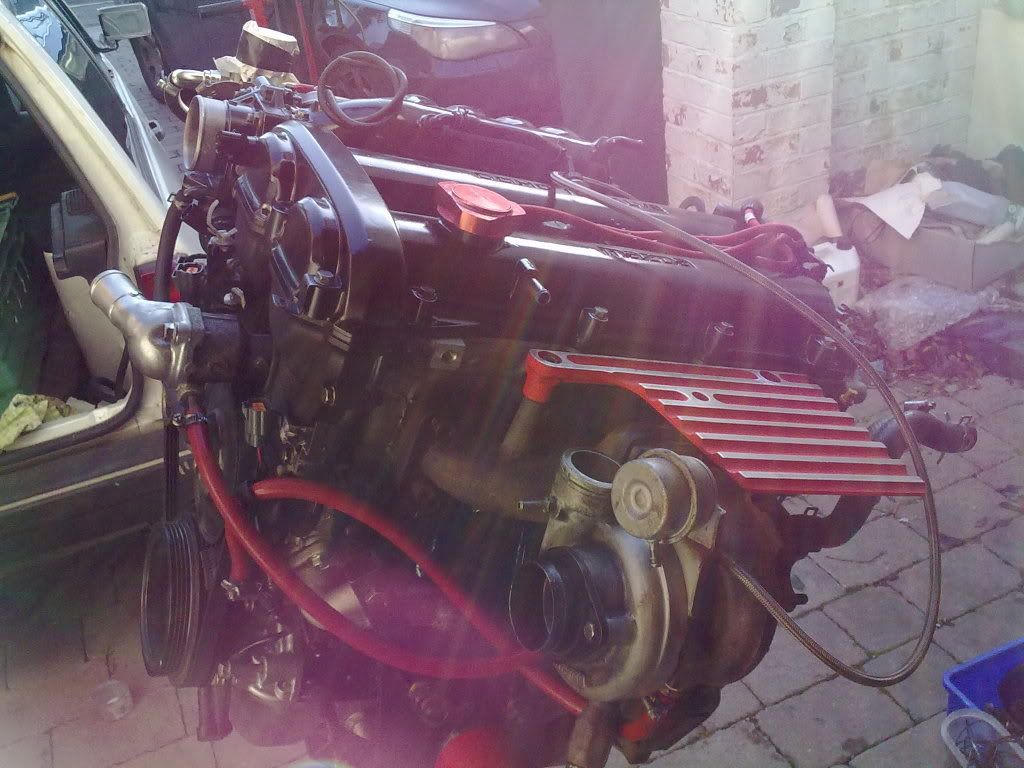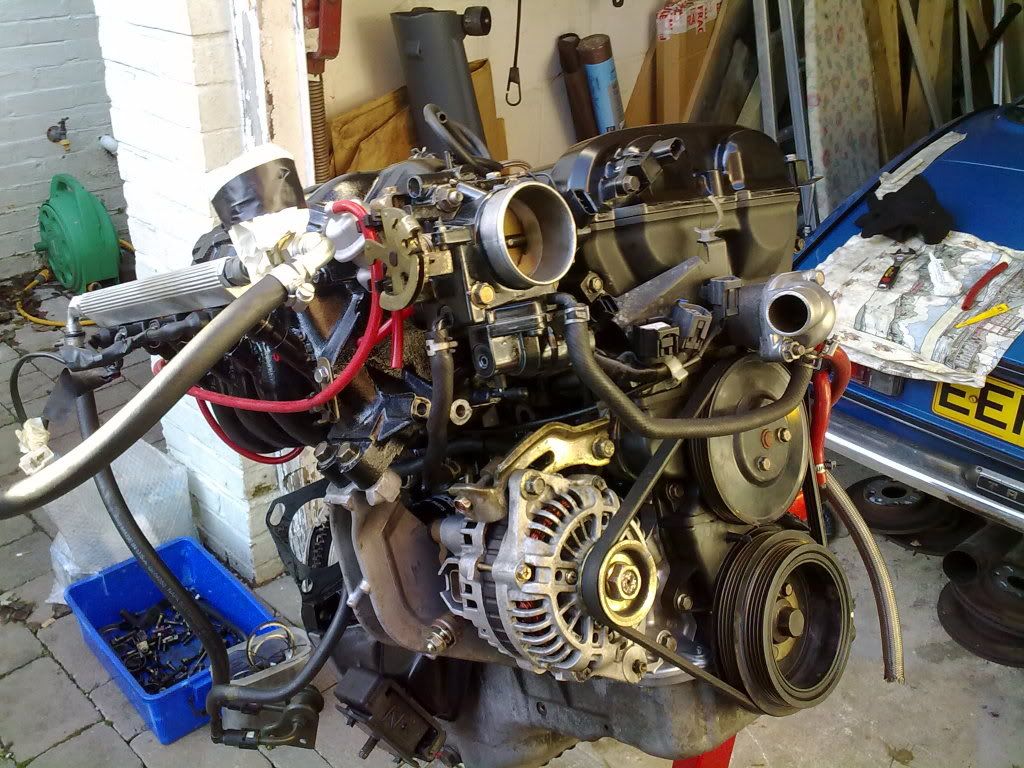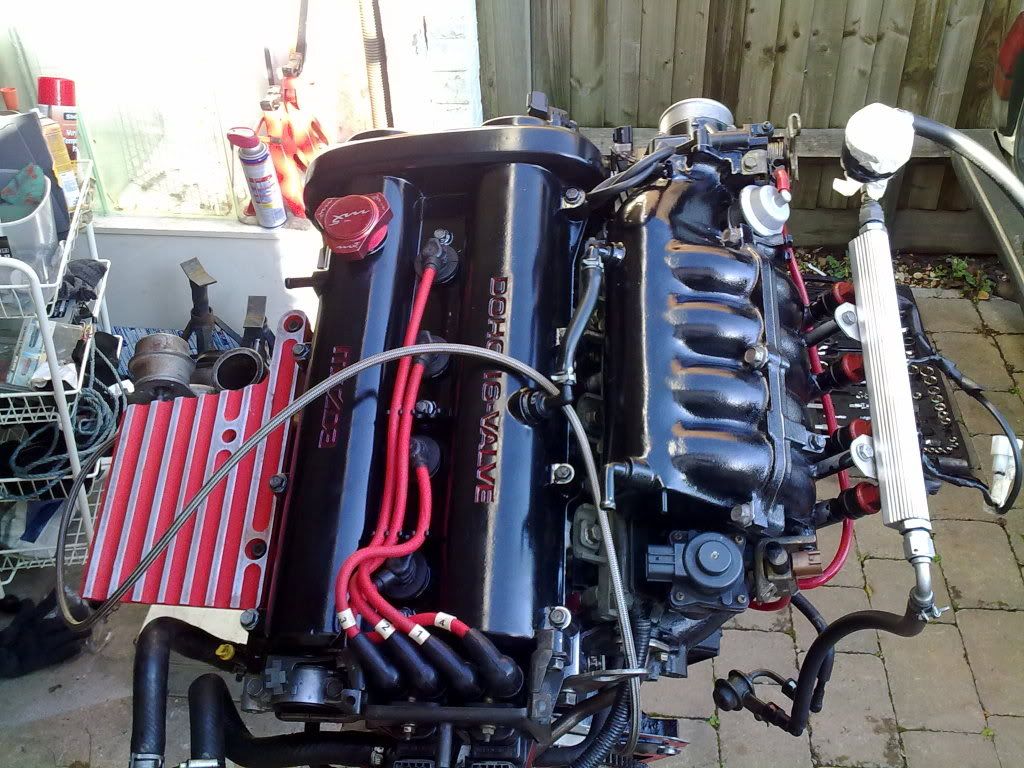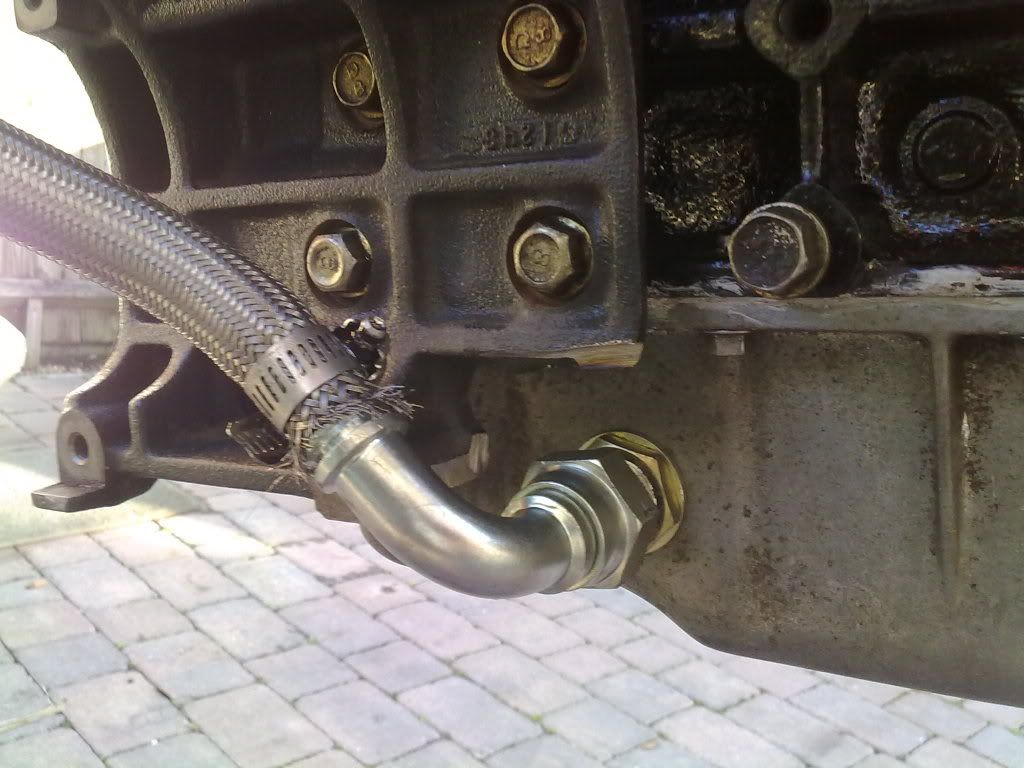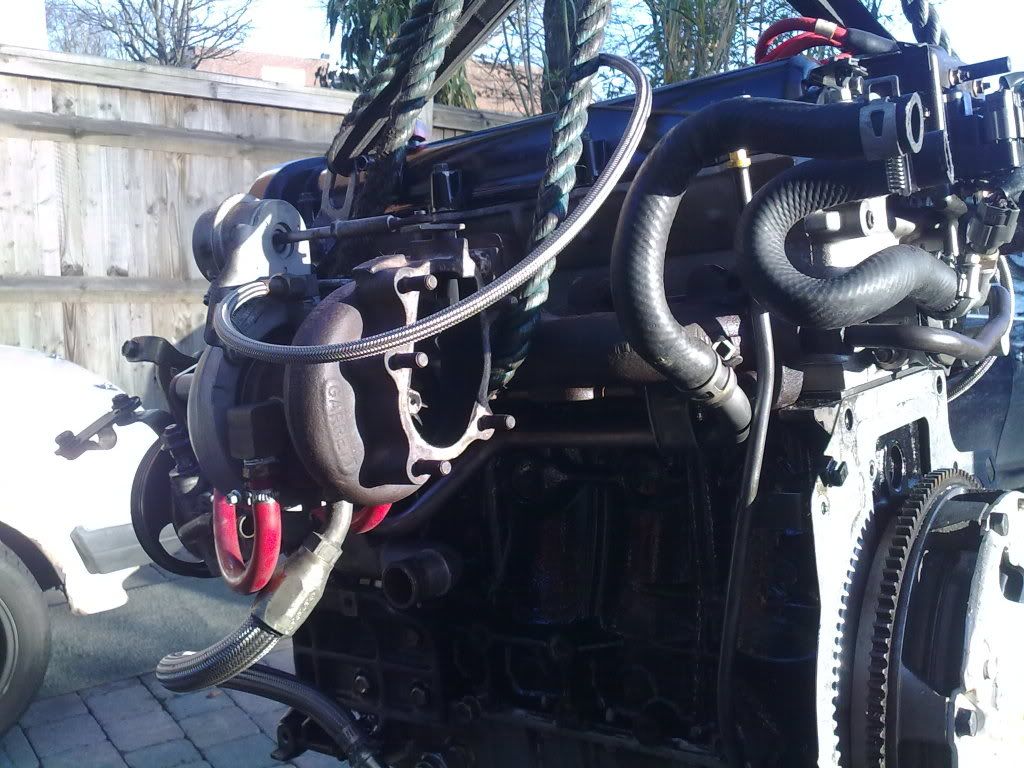 More swearing, many cups of tea, some wood, an engine hoist and a bit of old carpet shoehorned the FORTH engine into the car and believe it or not, she started on the button (The start button out of a Honda S2000, that is!).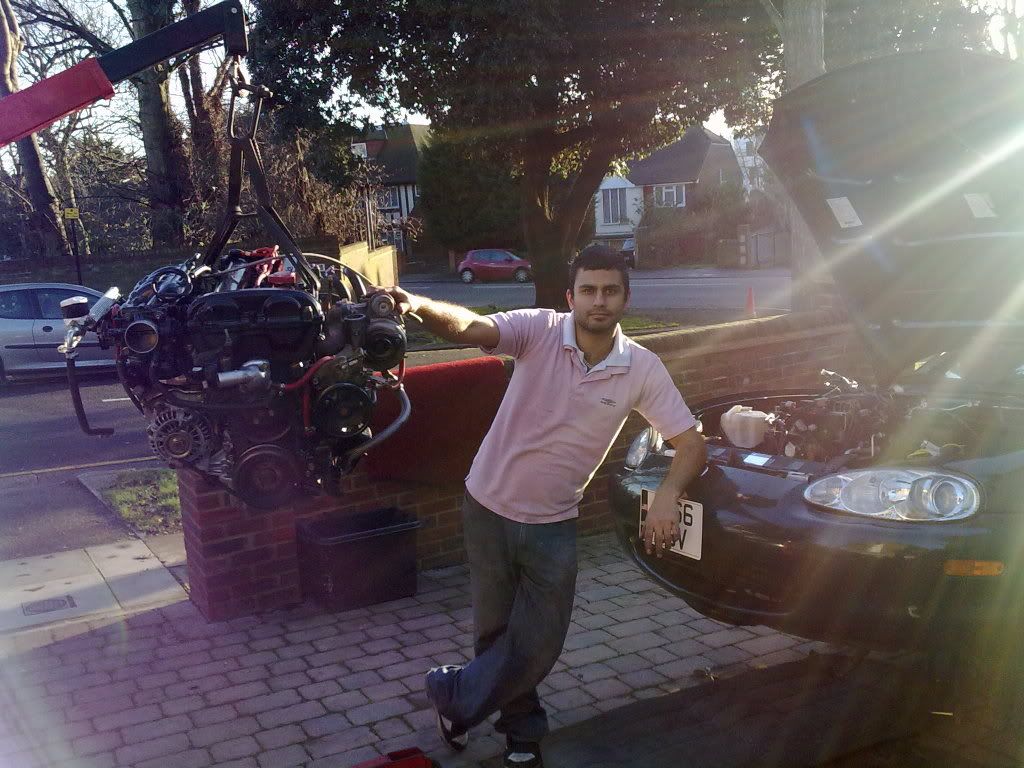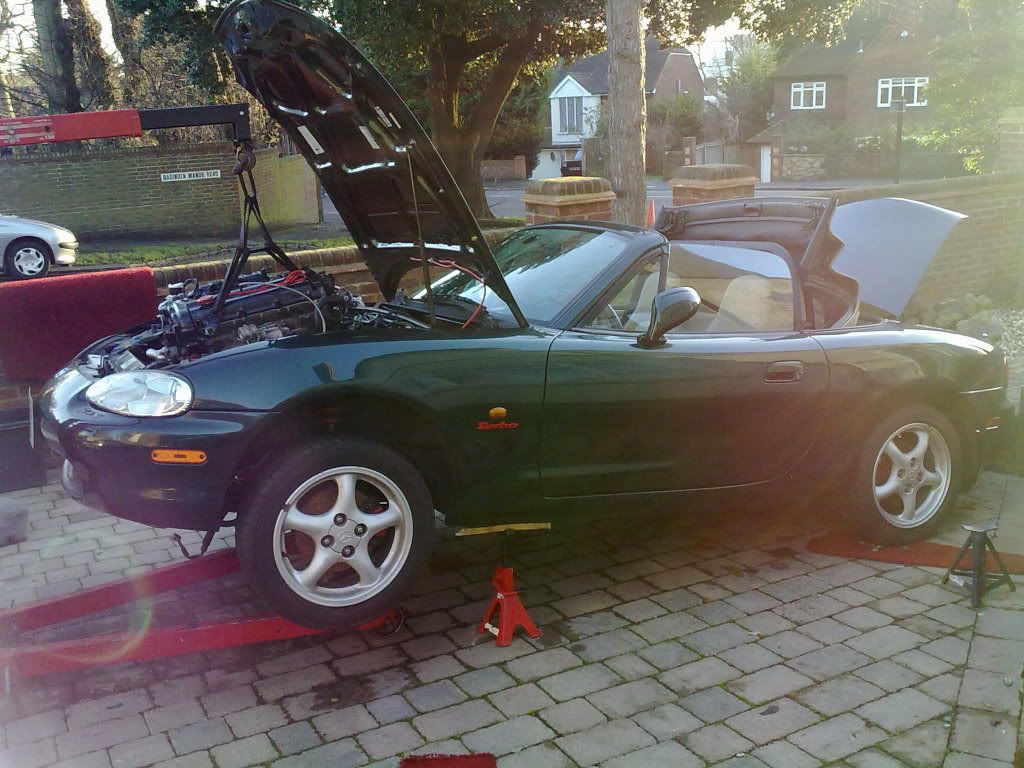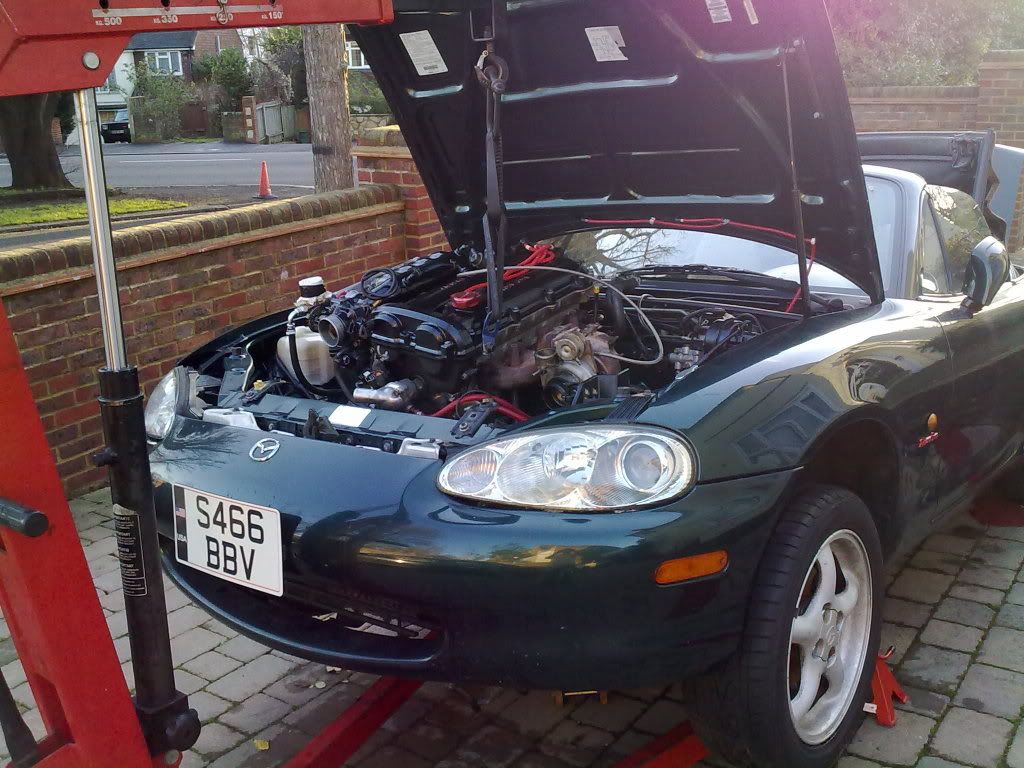 CONCLUSION
I have had a lot of thinking time, a lot of conversations with my lecturers at college (I study motorsport engineering) and a lot of phone calls to the States (got in a lot of trouble for them! £££!). The car's previous problems seem to have boiled down to engine management, fuelling etc. and oil starvation. I don't know exactly what happened to the first two engines, but based on the fact that the turbos needed replacing on each of those occasions, I can only make educated guesses (wild stabs in the dark).
I have built the engine with flat pistons out of the earlier 9.0:1 Comp.Ratio engine (The mk2's had a 9.5:1 CR) to cope with the increased pressure from the turbocharger. As mentioned earlier, it has race spec rings and bearings.
One of the theories for fuel management was that the fuel pressure may have needed stepping up for the additional injectors, but when I spoke with Corky Bell of Bell Engineering Group incorporated (BEGi), he told me that 60psi is all it needs. Mike at Mike's Place (Miata Specialist in the US) advised me that the fuel pump was capable of 90 psi. In light of both factors, I fitted a fuel pressure gauge in the engine bay to monitor the fuelling when tuning? More importantly, it looks cool!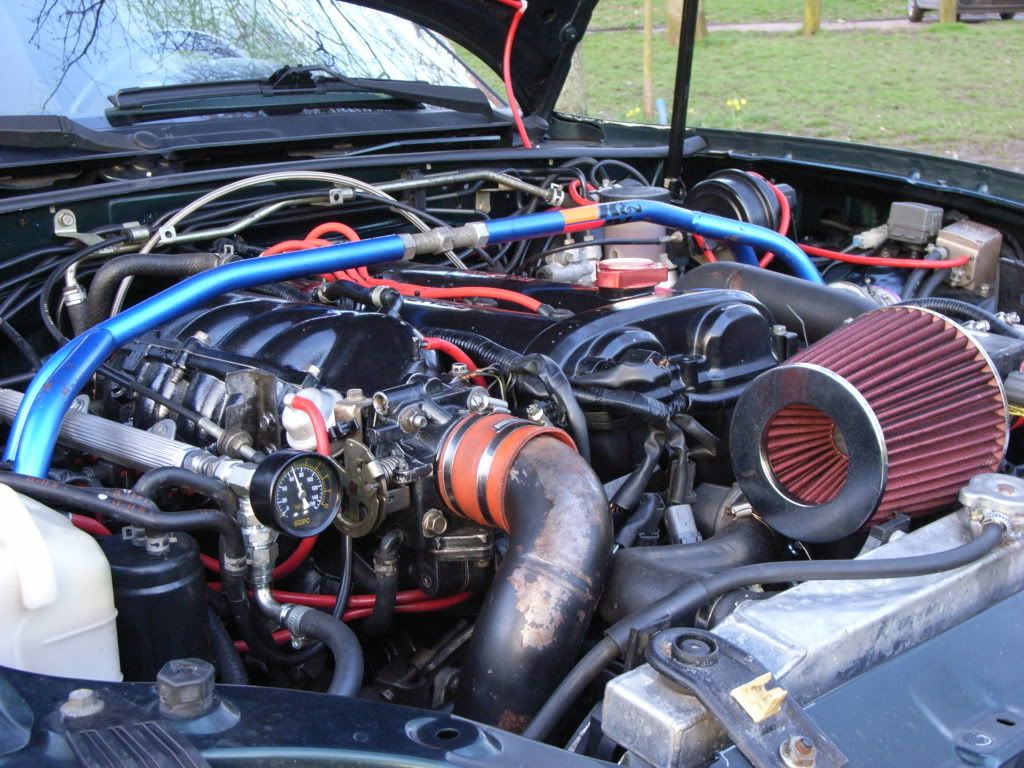 The turbo setup would only have been rated to 91 Octane as that was the highest available while in the US. When I feed the car 95RON, it'll boost comfortably at 0.7 bar. When I stick in 99 from Shell, it'll boost at 1.0bar without popping and banging?.
AND NOW
Ok, so here's the catch. Ever since I rebuilt it, I've had erratic idling (hence a previous post about swapping bits on someone else's motor to diagnose). It's over fuelling horrendously – I have already swapped front and rear O2 sensors, bought a new Mazda coolant temp sensor (£46 – ouch!) and tested resistances against the Mazda Miata workshop manual (came with the car – very handy!) on just about everything I can think of. I've covered 2000 miles now and it's still doing it.
I'm worried it might be the wrong cylinder head, as it's only a problem when idling; on the plus side however, the over fuelling is keeping the pistons nice and cool! On the other hand, my friend Leigh Scott of Grove Garage, Hove (who re-timed it for me when the problem first occurred) is convinced it's the AFM.
Anyway, right now, SKUZZLE (Nick) is kindly building me a Megasquirt system, so with any luck I can just map what I have and make it work properly; as much fun as it is to drive (now that I'm not using the door handle to change gear with), town driving can be a real pain and rather embarrassing when the car just decides to rev up at the lights – I'm 24 in a low-slung sports car – you paint the picture? Not a good look at 4000 rpm!
Oh yeah.... And who could forget the Polo of doom? Well, he had served his purpose and I had just buckled the two NS wheels on the Miata, those BBS's needed a new home... I even got Eighty-One quid back in scrap and left it mating with a Proton!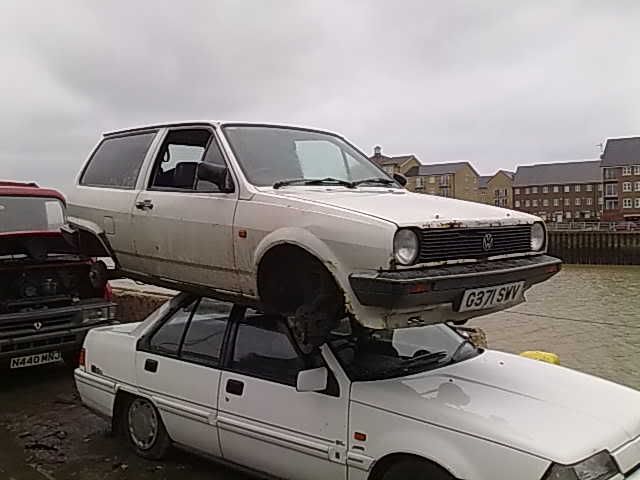 Sorry it's been such a long article, but thanks for reading – I got as many thanks in as I could remember, so sorry if I missed anyone.