Discussion Starter
·
#1
·
Thought I'd like to just get a thread up and compile some information on my very old and loved blue 1990 MX5, a UK spec car.
It has power steering, 165k (or so) on the clock and is still running great even now. Bodywork and paint has marks from wear and tear.. it came with some touch up paint and people have made an effort to touch it up where they can. From a distance you wouldn't notice anything, it's only when you clean it do you see and realize how old it is!
Below is a picture of the car.
I bought it over a year ago, it's been my first car and has definitely sparked my interest in car mechanics and cars in general.
Having driven it for over a year now (about 15-16 months) it has
NEVER
let me down, not even once. The only times I've had an issue is when I have been stupid enough to leave lights on and drain the battery! On the first MOT it failed on emissions and the handbrake (easily fixed) and the guys over at Autolink UK managed to fix it in a heartbeat all for about 60 quid (opposed to the £300 to fix the handbrake and have a look at the emissions, from the local garage. Even though they couldn't even tell me, or even guess at what was wrong with it!!) Guys at Autolink gave the car a good look over and advised me it was an OK car for its age and being UK spec, to keep it serviced and it should do me well.
I bought the car from a couple over in Southampton, really nice, said they genuinely didn't need the car anymore. Initially I found the car on eBay and the asking price was about £1300 or so. I put in a really silly offer just to see if there was any interest, and in the end I got it for about £
875
! Was really happy, managed to sort out a half decent (but still ridiculous) insurance quote, and waited to pass my driving test. Now I am sure I only got the car for that bargain price as I think people were put off by the mileage (at the time about 153k,) however I have since seen MX5 engines that still run with 300k on the clock so I am glad I went ahead with the purchase anyway and held faith in it.
Some nice things on the car, before I bought it:
Mohair hood (great condition, few years old)
Stainless steel exhaust (probably a couple of years more in it at least)
Chrome door handles, style bar, and rings on the dash etc
Team Dynamics black alloy wheels
Momo steering wheel
Some Sony stereo that I replaced with my own one (because it was red, what the hell)
K&N filter (makes a nice sound along with the exhaust)
FULL and extensive service history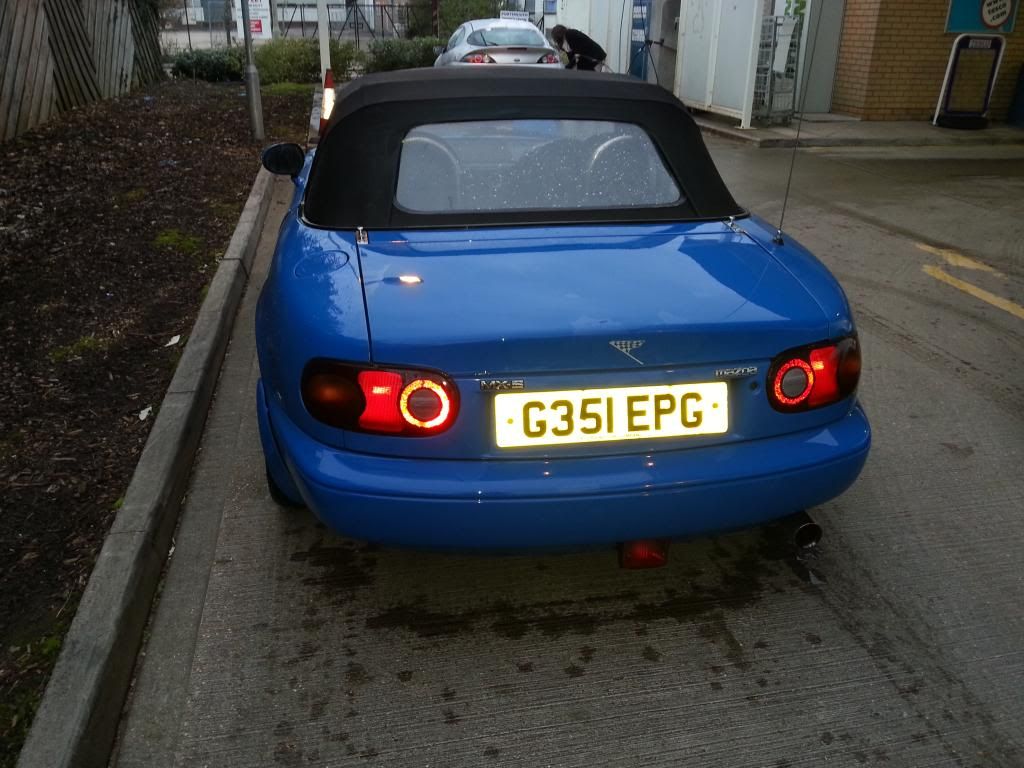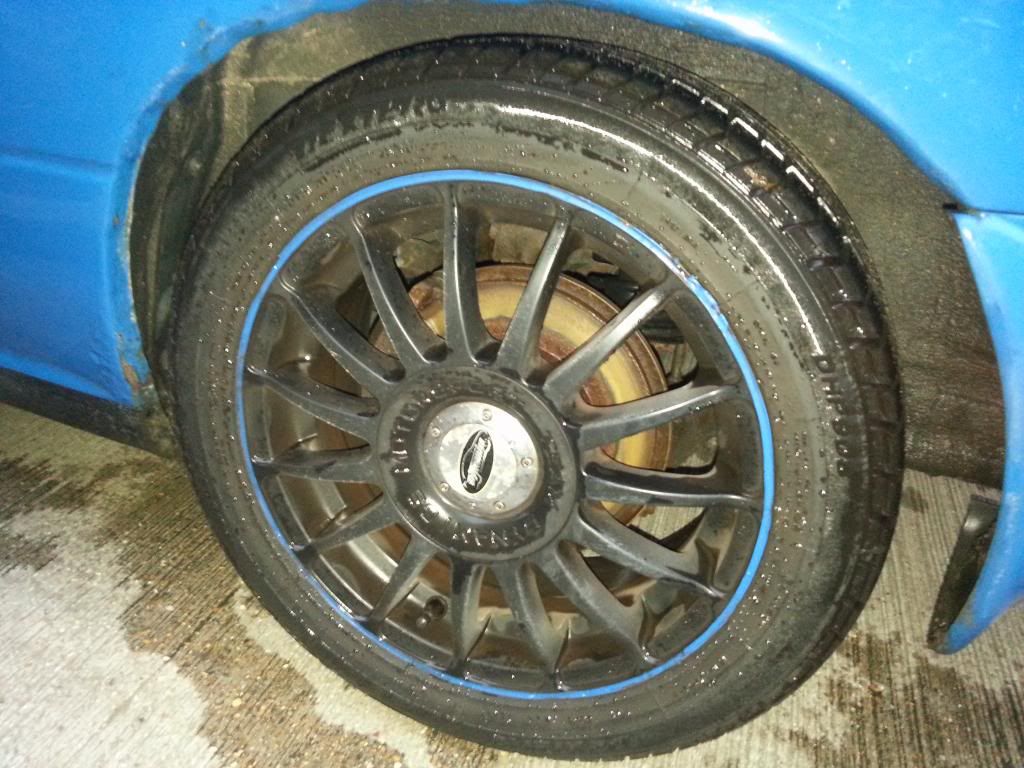 (apologies for blurry photo here, all taken on phone)
So as you can tell by the last picture, the car is (was) a bit rusty in the generic MX5 areas. On the first visit to Autolink, one of the guys (Paul I think?) removed all the crap that infamously gets stuck in in the drainage points.. clearly that had not been done for some time. Due to this, and being 22 year old, it was fairly rusty. On the initial MOT, the local garage did not mention rust, which I found strange. While the car was back at Autolink getting the handbrake and oxygen sensor sorted out, the sills actually did crumble under the weight of the car when they put it up on the er.. ramp thing. This was bad. I took it back for the re-test, which it passed (as they seemed to not notice the rust still) and Autolink said we need to get the sills sorted, which was usually a £350+VAT cost. I had a years MOT so I had time to save up to get this done.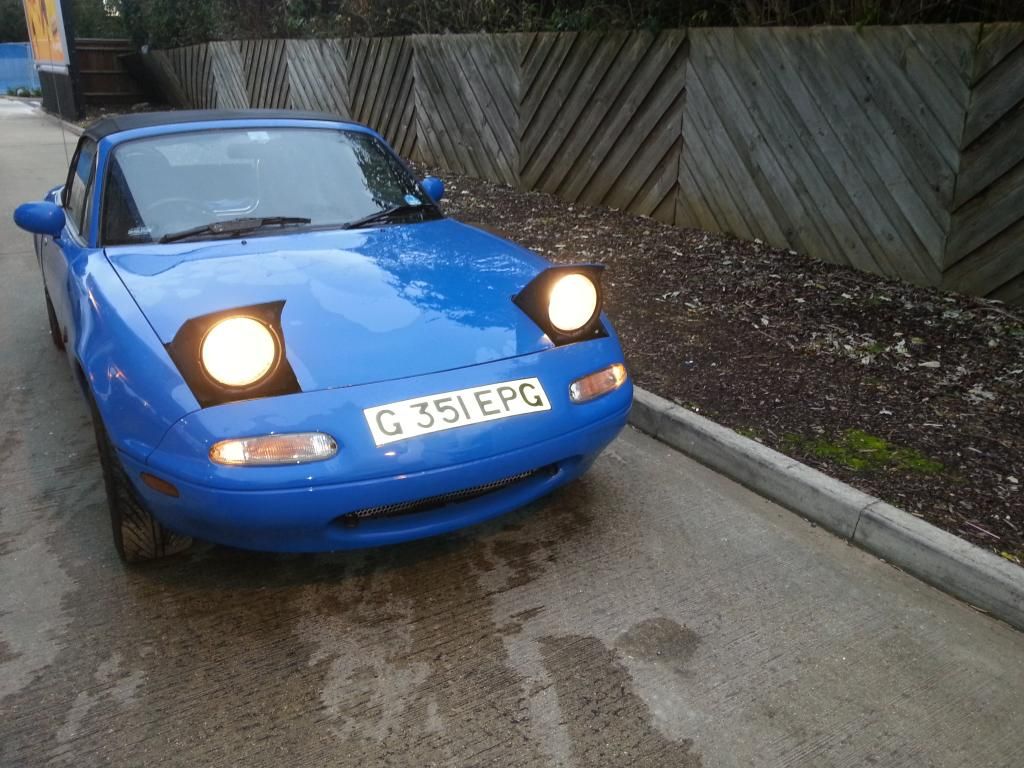 Since I've had it, I've only done a few things to it where I can. I had a chip repaired in the window, the handbrake fixed, oxygen sensor replaced. It had some new rear springs and shock absorbers put in some time last year too as well as some o-ring in the engine replaced that was leaking oil and the rocker gasket too.
I've added my blue gear knob, stereo, and probably the most extreme thing was to put the rear speakers in. I initially wanted to put wood into the area behind the seats, as I had seen others do it that way here on the forums. But I messed up the measurements, and ended up (with the help of my dad) cutting the metal, installing the speakers where we could, and wiring them in. Some how we actually managed to get it working properly (guess work wiring, lol), and the carpet is wedged between the speakers and the metal, so it sounds fine.
I didn't want to go down the route of an amplifier, and I know 6x9 speakers are cheap and nasty, but along with the aftermarket ones I installed in the front the whole thing sounds great to me when I feel in the mood for some music. The rear speakers seem to use the space below them to help with lower bass sounds and a good punchy kick, but it's obviously nothing like a sub-woofer. Any louder would hurt my ears, anyway.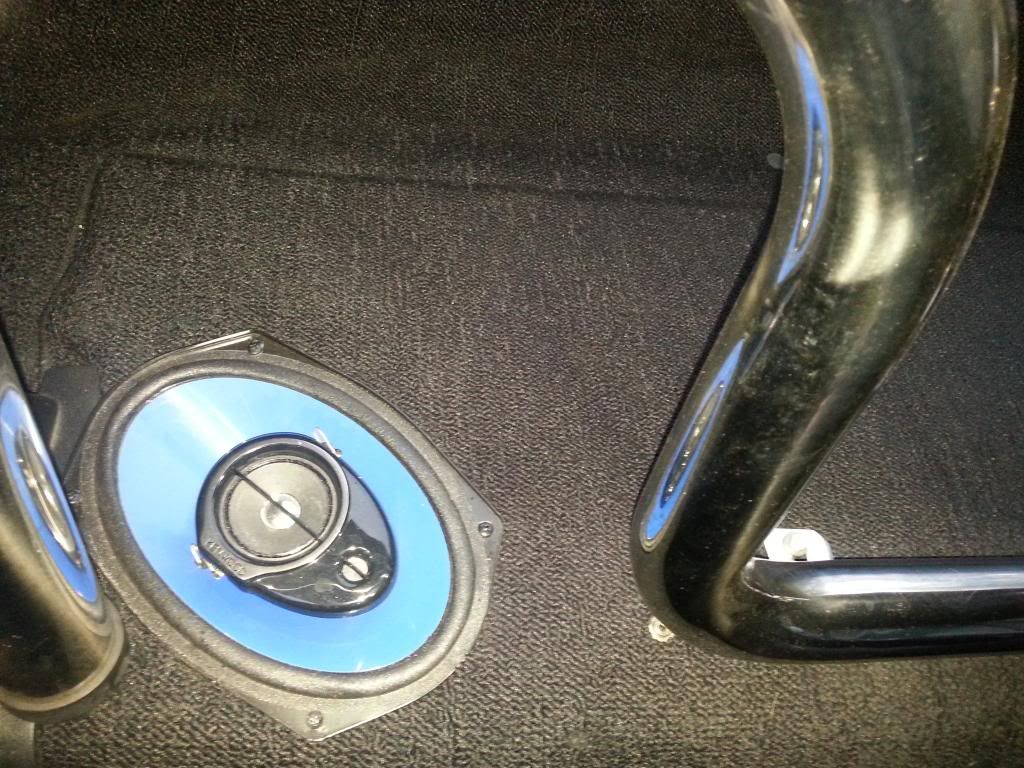 Can't install the speaker grills as it was a tight fit to get the style bar in with them, and required some cutting of plastic to get it all sitting in OK. I decided I'd probably be the last owner of the car, so just went ahead with what I wanted to do.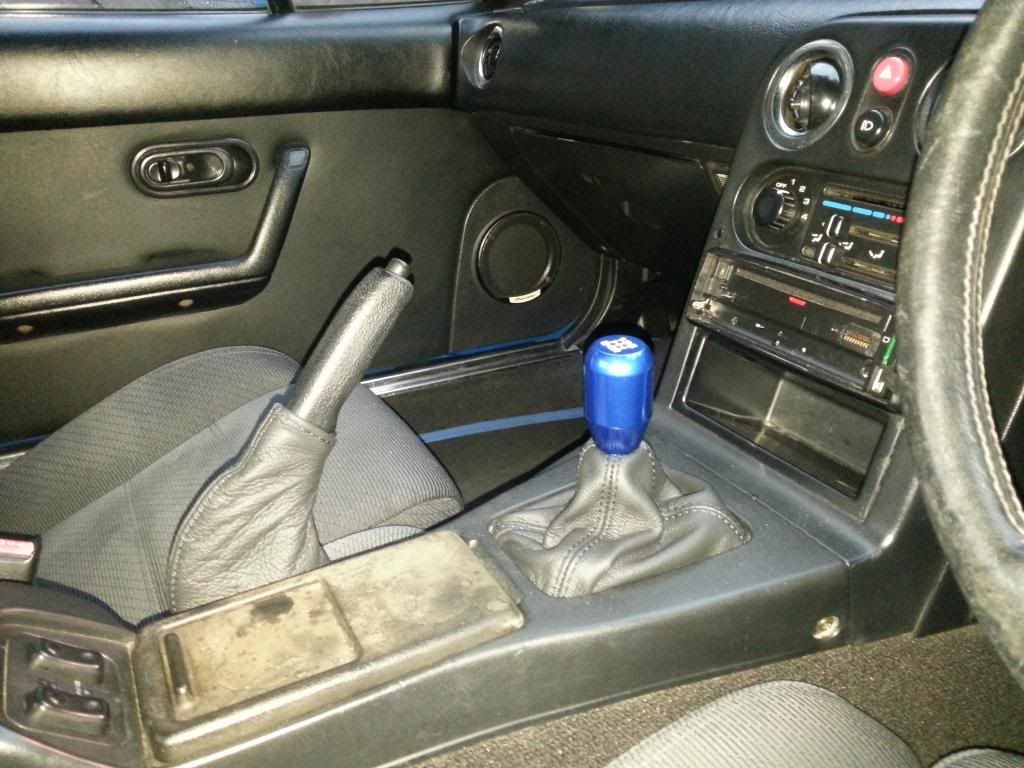 I actually have a different gear knob on there at the moment, but it's still blue and shiny, not much different.
Car needs some sort of product to get everything to a nice black, if anyone knows of one that can be used internally?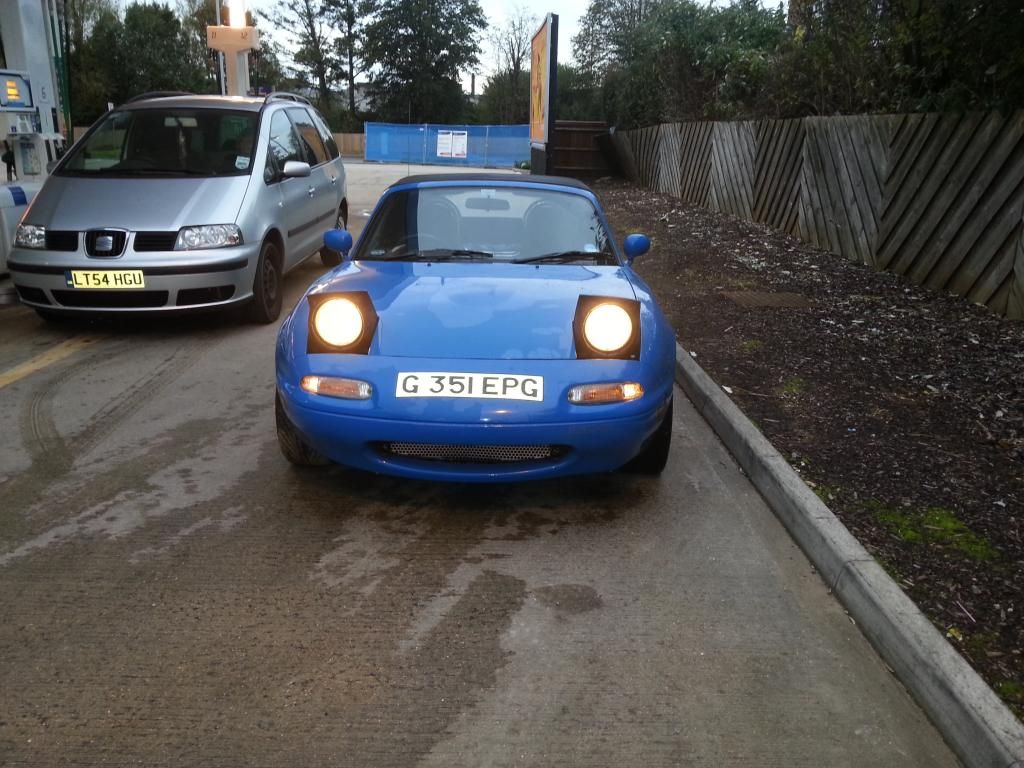 So onto the history of the car and the current state.
From talking to the previous couple that sold me the car, I was told their father owned a garage and the car had been owned by him for a good 6 years or so. It had regularly been serviced and things had been taken care of. It was quite clear someone had loved it in the past, with all the nice shiny bits on it. I think it was also them that explained to me the story of what happened to the engine, and while the engine mileage shouldn't be of major concern.
Either way, the (complete!) folder of history I have does confirm what happened. At around 60k miles, the car had a cam belt replacement. The story is that apparently it was not installed correctly, or there was some sort of issue, and due to this the engine broke down when being used afterwards and got destroyed. There is a report from an AA engineer who looked at the car to figure out what happened, etc. It's all a bit vague, but the owner payed > 3k to have the engine repaired and I still have the invoice for it. This was back in 1996 or some time, I believe it was a female doctor who owned the car.
Also, the car has been in practical classics magazine back in 2005, as well as some other clips from what might be newspapers or magazines that are in the folder. I have pictures of the practical classics pages:
I have copies of e-mails between one of the previous owners, and someone who works for the magazine, who said his wife used to own it (or something.) Lots of nostalgia comments and 'glad to see it still on the road' etc, really interesting to just read the history of the car over the years.
Below is a snippet from some other magazine. I have more pictures of ad's for the car for sale, etc but you get the idea.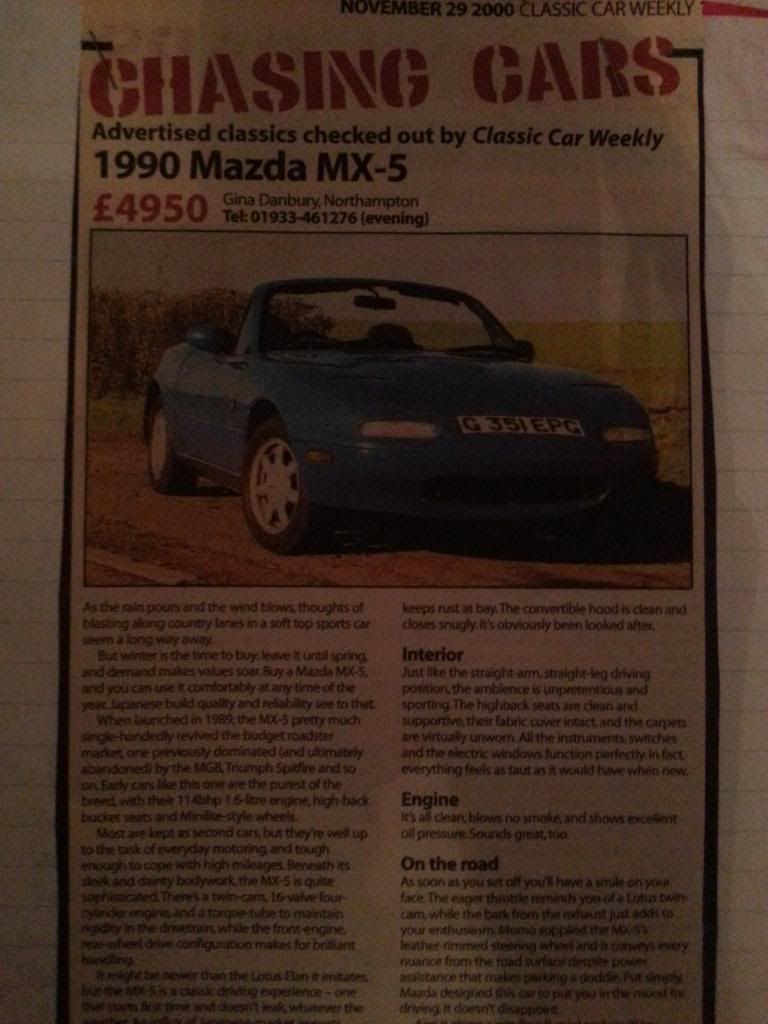 Really had an awesome year driving the car took it on holiday (200 miles or so) with no problems at all!
Had a job change in September this year, had enough cash to keep the car going (tax, fuel, etc) but I knew the MOT was coming up for January and it was way over due the rust work on the sills.
The car has a few things that need attention, like the gear shift is really stiff sometimes (need to replace boot shifts) and the speedometer sometimes plays up and gives crazy readings. Occasionally I get a noise like a squeaking belt when doing a sharp turn, so probably needs a new power steering belt or tightening something..
But this was by FAR the biggest problem with this car, and I really had to make a decision:
When I initially got the car, a quick look over and I was told the rust wasn't horrific considering it was 22 years old, and it could be fixed and then be under-sealed at some point during the year. I was OK with that.
So in December, better late than never, I took some time of work (the car is my daily drive, only car) and gave Autolink a call - to sort out this rust work and get a service.
We dropped the car of and got a message the next day asking us to phone them urgently regards the car.
I was told the car rust was really, really bad, and that I should just scrap it. Clearly the garage owner who had it previously may have fixed many things, but obviously only ever painted over the rust, which is a shame. I've become quite attached to it over the year and reading the history of it I really hated the idea of it being scrapped. After several conversations, Autolink said if I wanted to keep the car they would do it for an all in price, and they would get an MOT on it. It was a big job but they took it on, which is great of them (can't recommend them enough.) Took about 2 weeks. I weighed up getting another car, but that would cost me a grand or whatever anyway, and I really wanted this car. It did end up costing me a grand in the end with the VAT. I know some people will think it's crazy but I don't regret it. Here are some pictures sent to me, of the rust: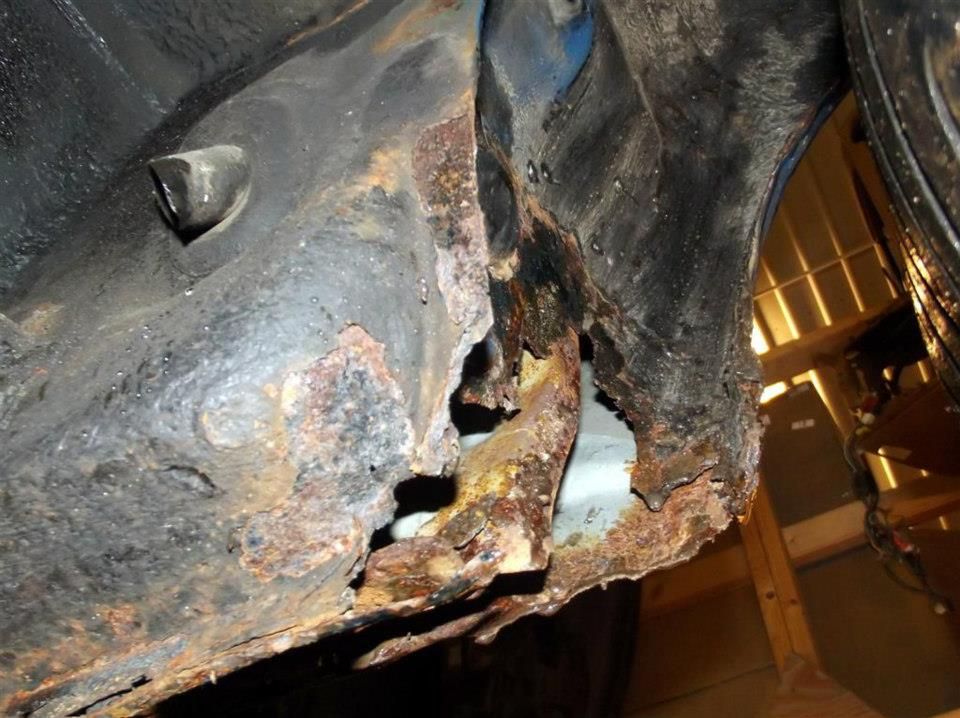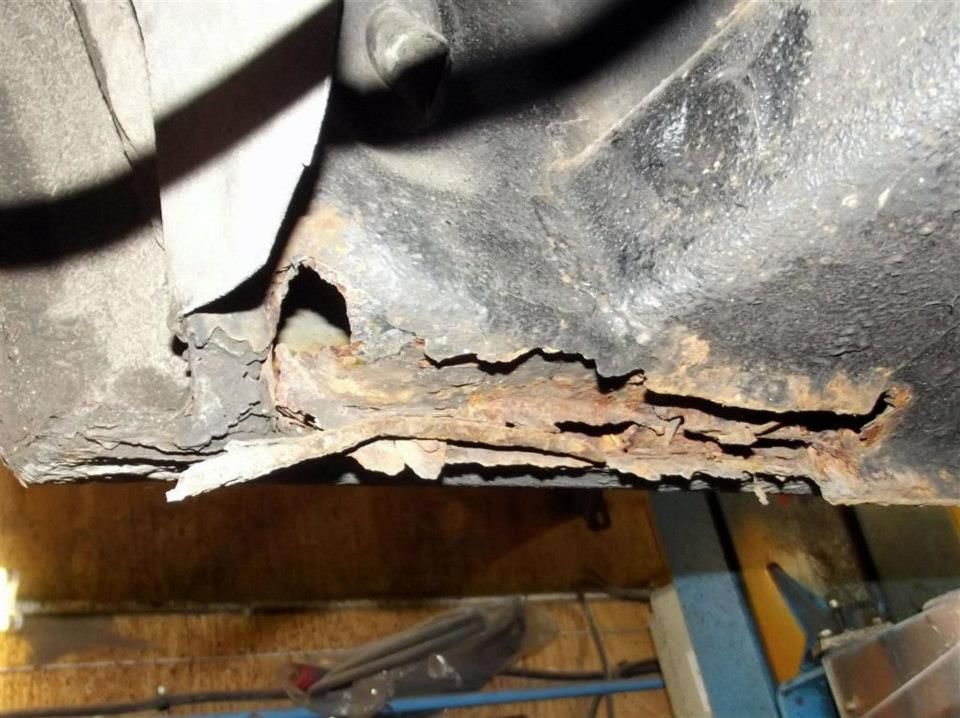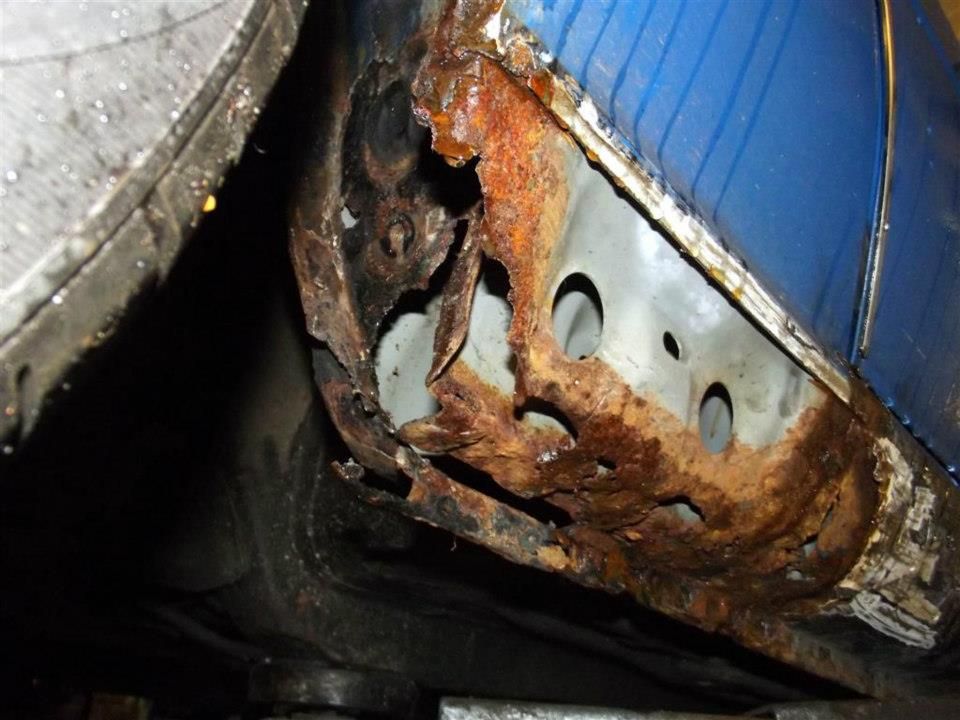 In the end it was all fixed. The guys even managed to service it for me which was awesome. God knows if they made any money out of all that work. But it's back and driving great. I don't have any new pictures yet, but it looks solid now.
It needs some more work, and I definitely need to get it under-sealed, as well as front springs replaced this year. But for now it has a 13 month MOT, so I'm hoping for another fun year with it.
And just to end on a better note, here are some pictures of it from last summer. If anyone has anything they want to see / know about the car, let me know.