Gents,
Apologies for the thread Necro, but thank you to Martin Y the OP for this thread, it was exceptionally useful for sorting out my MK1 Eunos speedo misreading by around 10MPH following a swap to a 3.6 final drive.
Just a couple of bits to add, the parts are all still available and are as follows:
Parts needed
M502-17-441
(19 tooth gear moulded onto shaft) - available £20-39
1011-17-442A
(
aluminum sleeve
that's offset for the smaller diameter
gears
) £18-64
9922-20-214
(small roll pin to lock shaft and gear into sleeve) £1-14
9958-60-8166
(internal oil seal for shaft to sleeve) £3-38
1011-17-443
replaces incorrect P/N 1110-17-443 (o-ring to seal sleeve to transmission) £4-47
Points worth noting:
1) you will lose some gearbox oil during fitment, I jacked up the rear of the vehicle as much as possible to limit this to a few MM.
2) To limit this further you could build the replacement unit first so that it is a straight swap.
3) Take all of the pieces listed above slide M502-17-441 into 1011-17-442A and fit the roll pin 9922-20-214. I added some oil to the roll pin and used a Pin hammer to do this, insert the smaller chamfered end into the hole and tap through, you can use a cut down small allen key as a drift!
4) insert 9958-60-8166 into the bottom of 1011-17-442A noting that the FLAT face goes in first, I used a small socket to ensure that it went all the way in
5) fit 1011-17-443 to the outside of the sleeve
A couple of pictures
Pic 1 shows the gear drive you will remove next to the new body: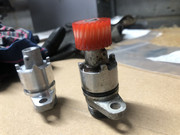 Pic 2 shows 9958-60-8166 inserted inside the body, note that I have inserted it so that the flat face goes up inside the body
I hope that makes it even easier for someone else!
BTW the speedo now reads around 2mph under at 70mph which is perfect! 30 is spot on matching the GPS
I am also running a 6 speed gearbox and have filled it with filled with Castrol Syntrans Multivehicle 75W-90, a massive difference to the slickness of gearchanges!